Danny Dyer: 'I haven't heard anything from the Royal family'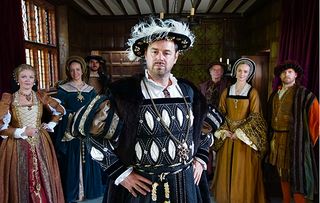 (Image credit: BBC/Wall to Wall Media/Jack Coat)
The EastEnders star says the Queen loves a bit of Enders on Christmas Day as his BBC1 show starts tonight
EastEnders star Danny Dyer saunters into a plush meeting room during a break from filming the soap at Elstree Studios in Hertfordshire, pours himself a coffee and slumps down in a comfortable chair.
He's still wearing one of Mick Carter's shirts, yet we haven't come to discuss his role as Queen Vic landlord – for which he last night won an NTA award – but his new history series which starts tonight on BBC1…
Danny got the surprise of his life when he discovered that 13th century English ruler, King Henry III, was his ancestor in an unforgettable episode of Who Do You Think You Are last year, but that was only the start of the story.
"I remember sitting there in Westminster Abbey and hearing that Henry III was my 26 times great grandfather," he says. "It was a complete revelation but as I'm trying to digest it, the credits roll, so the programme ended just as it started to get good!"
In this two-part series, EastEnders star Danny Dyer will be taking a trip through a thousand years of history to find out how far back his royal bloodline goes, before discovering how his regal relatives really lived…
Did you get an invite to Prince Harry's wedding? After all you're family…
DD: "I haven't heard anything from the Royal family. I'm clearly one of their embarrassing cousins they've got but don't want to acknowledge. I could be mixing in those circles. I don't know it would be nice if they did want to acknowledge it. Maybe one day. I heard the Queen is a fan of EastEnders though. I heard she always watches the Christmas special, which is nice I suppose!"
What can you tell us about the series?
DD: "Ever since I was told I had royal heritage I've been dying to find out more. Historians know all about my family, but I don't and when you have a family tree like mine you have to go and explore it. I want to indulge in it, taste it and find out what their lives were actually like. It's a history show that's told through my eyes so I'm hoping it reaches out to a lot of people. Hopefully you'll learn a lot more from one of my shows than you would from a David Starkey series. He's a clever bloke, but he's very boring!"
Were you surprised by how far back your family tree went?
DD: "Yeah that was a shock. My oldest known relative was Rollo the Viking, who came from Scandinavia to become the first Lord of Normandy in the 900s. We couldn't go back any further than that because no one knows who his mum and dad were. But he must have been some geezer, because he rose from nothing to the top of Viking society, which wasn't easy because they were a tough mob!"
Did you enjoy living as Rollo did when you travelled to the Viking village in Sweden?
DD: "I didn't mind sailing about on the longboat and learning to scrap like a Viking, but I wasn't a big fan of their food. They must have thought I was a bit odd and the name Danny Dyer probably meant nothing to them. I had to eat a sheep's tongue straight from the skull, which wasn't great. But you have to commit to these things otherwise there's no point. I've changed a bit as I've got older and I wanted to show a different side to me. I didn't want to take myself too seriously and hopefully that comes across."
What other parts did you enjoy?
DD: "I got to ride a horse for the first time ever, just like another of my royal ancestors, William the Conqueror. A coin with Danny Dyer on it - imagine it! We did a bit of jousting and then we went hunting in the forest and I wasn't bad with a bow and arrow. One of my favourite bits was getting a bag of coins with my face on, just like my ancestors. That was a nice touch from the producers, although I realised later on that they had an ulterior motive…"
Oh really?
DD: "Well it turns out I'm also related to 13th century French King, Louis IX. He was a great man and a saint, which I found fascinating. I have sacred blood running through my veins! He was all about helping people, especially the poor, but he was very religious and didn't like blasphemy. So the coins were for a swear box, which I had to use while I was walking around Paris. I had to follow in his footsteps and do it barefoot like he used to, so I didn't have much dosh left by the end of the day!"
You were allowed access to one of his tunics as well…
DD: "Yes I was, as I was his ancestor. Only his descendants are allowed to and they needed to see the paperwork and that. I didn't suffer it at first I thought, no it's not it can't be, an 800-year-old shirt, really? But I think the historian who was my guide really loves Louis, so to meet an ancestor of his and get to touch his cloths was a real moment for her. There was still blood on it from where he used to flog himself. When you are doing these shows you are just digesting and you are trying to shoot it, so in your brain you move on quickly to the next thing and it's after you've finished them when you sit back and reflect on them really."
How would you have done as a Medieval ruler? What would King Danny Dyer have been like?
DD: "I'd have been useless. I probably would have been a bit like St Louis. I'd have been kind because they were ruthless weren't they? Very violent people, so I think I'd have been nice and used my position to help others. Well that's what I'd like to think. That would be nice – to be loved rather than feared."
Have you been contacted by other descendants of royals since doing WDYTYA?
DD: "A couple of nutty people on Instagram, but you can never really trust that. No not really. You've got to have the paperwork see, that's the thing. There was this professor who said everyone is related to King Edward III, which is ridiculous, but whether it's all incestuous and we're all related I don't know. Why some people have to piss on my parade I don't know. I've got the paper work, it's all there. So no I haven't really, but I'm sure there's a lot of us knocking around."
Were you pleased to get your family involved in the second episode?
DD: "Yeah that was great, because I drive the kids mad talking about it and they're not that interested, so it was goof to get them involved. My wife enjoys it all a bit more, although I do have to remind my wife that she only married into it – a bit like Princess Di – and she's not real royalty. So we went to Helmingham Hall, which would have been mine if my ancestors hadn't messed it up. One side of the family kept that gaff and my side ended up on a council estate in Canning Town. This is what you could have had!"
What else have you got coming in up in 2019 apart from EastEnders?
DD: "I'm doing a Pinter play with Martin Freeman very soon, which I'm excited about, because he's a top geezer and a brilliant actor. Harold Pinter was a very important part of my life and he's been gone for 10 years, so my way of being connected to him again is to do some of his work. We're doing a two-handed piece called The Dumb Waiter, which is one of his best plays. It's full on for me at the moment and I'm very grateful for everything I've got. I'm in a good place!"
EastEnders actor Danny Dyer stars in Danny Dyer's Right Royal Family, which begins tonight on BBC1 at 9pm. EastEnders continues on BBC1.
Feature writer for TV Times, What's On TV, TV & Satellite Week and whattowatch.com
Sean has been writing about all things telly for over 10 years and in that time he's been lucky enough to interview stars like Ian McKellen, Tom Hardy and Kate Winslet. His favourite shows are The Great British Bake-Off, People Just Do Nothing and Succession and in his spare time he enjoys drinking tea, doing crosswords and watching football.
Thank you for signing up to Whattowatch. You will receive a verification email shortly.
There was a problem. Please refresh the page and try again.