David Walliams and Jessica Raine are Partners in Crime: 'We're a married couple looking for excitement!'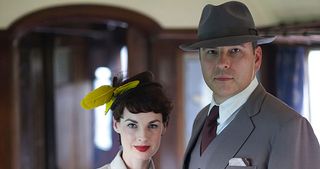 (Image credit: BBC/Endor Productions/Laurence C)
David Walliams (opens in new tab) and Jessica Raine (opens in new tab) about reviving Agatha Christie's lesser-known detectives, married duo Tommy and Tuppence, in BBC1's new period thriller Partners in Crime.
Standing on a platform at Didcot Railway Centre museum in Oxfordshire on a sunny day, David Walliams can't hide his delight as magnificent vintage trains huff and puff their way along the tracks amid clouds of steam.
Actor, comedian, children's author and Britain's Got Talent judge David 'loves old trains and railways' and has never visited this particular tourist attraction before.
But the real reason for his excitement – and why he has invited TV Times (opens in new tab) along for this jolly outing – is that he's about to film the very first scene for Partners in Crime (BBC1, Sunday, July 26)...
David, tell us a bit about the storyline...
"It's set in a 1950s Britain rising from the ashes of the Blitz into the grip of a new Cold War. It sees myself and Call The Midwife star Jessica Raine, bring to life Agatha Christie's lesser-known detectives, married suburban couple Tommy and Prudence 'Tuppence' Beresford."
It's a project that's close to your heart...
"Yes and it's a bit scary but exciting seeing it all finally coming together."
When did you first become a Agatha Christie fan?
"When I was about 10, in the early 1980s, I watched the film Murder on the Orient Express with Albert Finney on TV and thought it had the most incredible mind-blowing twist. I also loved Sherlock Holmes. I wanted to be a detective when I was a child. I put a little sign on my bedroom door saying I was a detective for hire, but no one ever asked me to do anything!"
How did you get Partners in Crime off the ground?
"I met (Agatha's grandson) Mathew Prichard when I was in an episode of ITV's Marple [playing George Bartlett in 2004's The Body in the Library]. Then after reading the Tommy and Tuppence books, I met him again to see what he thought. He was happy these characters were going to see the light of day again."
Tommy and Tuppence have only appeared on UK telly once before, with James Warwick and Francesca Annis playing them in an ITV series from 1983-1984. Why have these characters been rather forgotten?
"Poirot and Marple have always dominated because there are more stories and adaptations about them, and they were written as more eccentric, which makes them more obviously memorable characters.
"The other problem with adapting Tommy and Tuppence is that Christie wrote the first book in 1921 and the last one in 1973, and they're all contemporary to the period they were written in. So if you wanted to do them slavishly to the books it'd prove a big problem in terms of casting people from 20somethings to being in their 70s."
You've solved this problem by setting the entire series in the 1950s…
"The 1920s is a brilliant era, but it becomes quite mannered and possibly a bit remote for people. So we thought somewhere in the middle would be the right place to try to honour Christie."
Talking of the Fifties, you seem to love this period Jessica!
"Yes, here again! It's a little earlier than Call the Midwife. I get a bit of make-up, beautiful red lips, a new hairdo and amazing hats. Tuppence is really into her hats – which is basically why I did it!"
How would you describe the tone of Partners in Crime?
David: "At first, I was thinking it could be quite comical seeing them arguing as they solve cases, but the material is serious and pretty dark so it would have been wrong to camp it up. Instead we wanted the threat and the world to be very real, but bring in these characters that are amateurs. It's basically like a James Bond story, but with a normal husband and wife."
What are Tommy and Tuppence like?
Jessica: "Tuppence is spirited and front-footed. In our adaptation, they've been married quite a while [they're just falling in love in the book version of The Secret Adversary] and – stale is a strong word! – but they're looking for some excitement."
David: "Tuppence is really the hero of the piece. Tommy's more of a henpecked husband who'd probably rather sit at home reading the paper so she eggs him on to get involved in these adventures. His back story is that during the Second War World, he got run over by a catering truck on his first day and never saw active service. So now Tommy wants to prove himself to be a hero."
Is the plan to film all the Tommy and Tuppence novels and short stories?
David: "Definitely! Mathew has also said if the show is a huge success, we could think about creating more stories or adapting Marple stories of the time."
And finally, who are your favourite sleuths?
David: "Sherlock Holmes is the ultimate. It's hard to choose a favourite actor who's played him. I grew up watching Basil Rathbone with my dad in those brilliant Hollywood films, then Jeremy Brett in that beautiful 1980s series, and then Benedict Cumberbatch has reinvented him now. Benedict's the only one that's alive, so I'll say him!"
Jessica: "I can't get Jessica Fletcher [played by Angela Lansbury] out of my head – what a legend! I can't not watch Murder, She Wrote!"
Get the What to Watch Newsletter
The latest updates, reviews and unmissable series to watch and more!