Douglas Henshall: 'There are shocks in the Shetland finale!'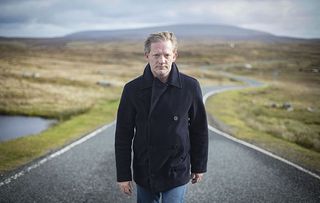 (Image credit: BBC/ITV Studios/Mark Mainz)
Douglas Henshall reveals the thrills and spills in store in the explosive finale of BBC1 drama Shetland
The latest series of Shetland has left viewers enthralled by its stunning twists and turns as DI Jimmy Perez (Douglas Henshall) and his close-knit team have painstakingly investigated the devastating impact of human trafficking on Shetland and an ever-rising body count.
Now, in an explosive finale, can Perez crack the case and find missing Zezi (Titana Muthui) alive?
Douglas Henshall tells TV Times what to expect in the Shetland finale…
TV Times: What can you tell us about the finale?
Douglas Henshall: "We do wind everything up and the shocks come thick and fast. I hope it's satisfying. Some people might work it out but they might also surprise themselves! People on social media have really enjoyed this series. Every Tuesday night after the show I can't go through my messages because it freezes with the amount of traffic. It's crazy!"
TVT: Will we see the impact on Perez as he makes a last ditch attempt to find Zezi?
DH: "I think Perez's entire sanity depends on finding her. He feels, 'She's not dying on my watch.' But the toll that takes on him is pretty terrible… He also thinks there's a leak revealing things about the case but there's such a narrow field as to who the leak might be, it will be awful for him whoever it is. Nothing good seems to happen to Perez! By the end of filming even I was battle-weary."
TVT: Perez has fallen for Alice (Catherine Walker), could this be lasting love for him even though she is married?
DH: "I don't want to give anything away! When it was mooted, I wasn't sure because I don't know how many troubled romances you can involve him in without thinking, 'What's wrong with you Perez?!' But it's going to be the last romance for him for sure - it is either her or nobody…"
TV: Would you be up for another series?
DH: "I always think as long as the ambition is there to keep making the show stronger and better, then there's a point to coming back to do it again. If I felt we were becoming tired or repetitive I wouldn't do it. I don't think we can keep going forever. It'd be nice to come back and wrap it up though because the characters and the show deserve it and we could send it off into the sunset well."
Shetland concludes on Tuesday 19 March at 9pm on BBC1
Caren has been a journalist specializing in TV for almost two decades and is a Senior Features Writer for TV Times, TV & Satellite Week and What's On TV magazines and she also writes for What to Watch.
Over the years, she has spent many a day in a muddy field or an on-set catering bus chatting to numerous stars on location including the likes of Olivia Colman, David Tennant, Suranne Jones, Jamie Dornan, Dame Judi Dench and Sir Derek Jacobi as well as Hollywood actors such as Glenn Close and Kiefer Sutherland.
Caren will happily sit down and watch any kind of telly (well, maybe not sci-fi!), but she particularly loves period dramas like Call the Midwife, Downton Abbey and The Crown and she's also a big fan of juicy crime thrillers from Line of Duty to Poirot.
In her spare time, Caren enjoys going to the cinema and theatre or curling up with a good book.
Get the latest updates, reviews and unmissable series to watch and more!
Thank you for signing up to Whattowatch. You will receive a verification email shortly.
There was a problem. Please refresh the page and try again.