DVD review | The Phantom of the Opera | A new documentary unmasks the iconic masterpiece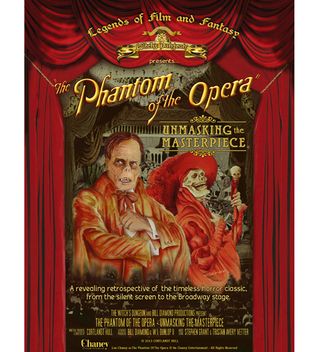 Phantom of the Opera – Unmasking the Masterpiece is a 105-minute long visual retrospective of the famed 1910 Gaston Leroux novel, which has spawned numerous film, stage and television adaptations; turned the character of the Opera ghost into one of the most recognisable and iconic images in popular culture; and influenced famous horror films from House of Wax to The Abominable Dr Phibes and The Phantom of the Paradise.
Focusing on the three classic film versions in which Lon Chaney, Claude Rains and Herbert Lom each gave their own distinctive portrayal of the Phantom - in 1925, 1943 and 1962 respectively, this labour of love from Cortlandt Hull, the owner of The Witch's Dungeon classic horror movie museum in Connecticut, features interviews with a 103-year-old Carla Laemmle, the only surviving cast member of the 1925 film, and Ron Chaney, the great grandson of Lon Chaney.
Fleshing out the retrospective, famed make-up artist Tom Savini talks about how he was inspired by Chaney, while film historians Michael Blake, Steve Haberman and Daniel Roebuck trace the making-of the three films, highlight the differences in the 1929 international version, and profile James Cagney's 1957 Lon Chaney biopic, The Man of a Thousand Faces. The anecdotes told here will certainly thrill classic film buffs (who knew set designer Charles Gemora was also one of the famed gorilla suit actors of the golden age of cinema?) and there's a peek inside Chaney's famous make-up box - without doubt the important artefact in the history of film make-up.
Almost 1000 rare movie posters and photos have been carefully restored to accompany the interviews, plus there's a tour of the actual opera set on soundstage 28 of the Universal Studios lot which was built for the original 1925 film, and is today the oldest standing set in Hollywood. Bringing the Phantom's legacy up to date, Hugh Panaro, the current Broadway star of Andrew Lloyd Webber's musical, closes the proceedings with a look at the secrets and makeup used on the stage version, which is celebrating its 25th year.
Phantom of the Opera: Unmasking the Masterpiece is available on DVD (NTSC only) (click here to order from Amazon).
For a full review of the BFI's newly-restored release of The Phantom of the Opera on Blu-ray, check out Pete's review (CLICK HERE).
Get the latest updates, reviews and unmissable series to watch and more!
Thank you for signing up to Whattowatch. You will receive a verification email shortly.
There was a problem. Please refresh the page and try again.