Emmerdale's Michael Parr reveals why he nearly left the soap last year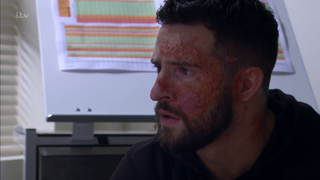 Ross Barton's acid attack has been one of the most topical and talked about storylines in recent soap history.
But Emmerdale's recent big story could have looked very different - had Michael Parr decided not to take on the role.
The actor recently revealed that he nearly left last year, but that the acid storyline was too good an opportunity to turn down.
Speaking to the St Helen's Star, Michael said: "I almost didn't take on the acid attack story line as I was ready to go last year, but I told the writers that I'd stay for a story they had never done before.
"When they came up with the acid attack I felt it was a challenge."
A year later, and Micheal has decided to leave the ITV soap to pursue a career in the States.
"I love working at Emmerdale but I'm just ready to go," Michael said.
"I went to drama school and have spent five years in Emmerdale, so I would like to take on new things.
"My mum's family are from Brooklyn and I have two passports, so I thought now is the right time to give it a go.
"I will be heading to LA but I'll be spending time between there and New York."
There was prior speculation that Michael left the soap due to becoming "fed up" over his acid attack storyline and the gruelling make-up procedures, but Michael was keen to set the record straight on this.
Speaking to Digital Spy at the Soap Awards (2 June), he said: "No, no," he said when asked if the story was true. "And they said that I wasn't happy with the make-up!
"Do you not think that I thought, can you imagine me going, 'Well, I didn't think I was going to have to put make-up on my face every day'. Of course I knew that going into it.
"The make-up girls have been amazing. That's been one of the saving graces of it. I've been working long hours, but the make-up girls have been on point.
"I've enjoyed every second of the storyline. It's just, I always said that I was going to do four [years]. They convinced me to do a fifth, and it'll be the end of my fifth. It's just my time to go.
"And I'm definitely not leaving to become a professional MMA fighter!"
Get the latest updates, reviews and unmissable series to watch and more!
Thank you for signing up to Whattowatch. You will receive a verification email shortly.
There was a problem. Please refresh the page and try again.