Endeavour's Shaun Evans: 'I listened to Michael Palin to get Morse's voice'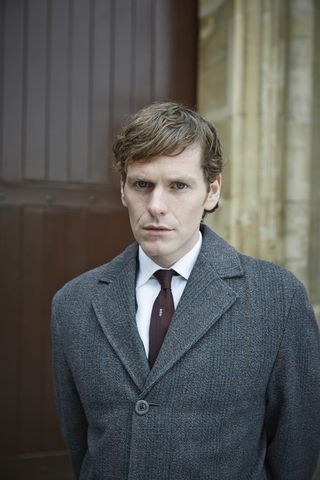 (Image credit: JFORD)
Shaun Evans returns as troubled young Endeavour Morse in 1960s crime drama Endeavour (opens in new tab) on ITV this Sunday and TV & Satellite Week (opens in new tab) took him in for questioning to find out more…
Where do we find Endeavour in the new series?
"Well last time his dad had just died and he had been shot and he has now spent four months away in a different station so he is coming back and much finding his feet and there is an irritation with Thursday that he has been left out in the cold. He is frustrated, but also turning towards the booze more and Thursday is concerned that he is not firing on all cylinders."
Is there a story arc to this series?
"Yes, during the series we discover evidence going missing and there is something standing in the way of us solving crimes. At the end of the first episode one character says to Endeavour, 'Everything that you hold dear will be taken away,' and that promise comes true in the final one when everything is turned on its head."
Are all the characters involved in the fall-out?
"Yes, there is a sense of something new coming and something old dying so at the start Endeavour is thinking whether he is in the right job, but there is a role reversal because by the end Thursday, and also Bright, question whether they have a place in this new world. Then the younger lads Jakes and Strange also have to decide how they will move forward and what they will bring to the table. So everyone has a massive journey and gets a crack of the whip, it really feels like an ensemble."
Will we see some romance this time?
"He meets a new neighbour Monica who is a nurse. Apparently it was common for police and nurses to get together at the time. We see him falling in love ,but he takes his eye off the ball and it affects his professional life and he has to make a choice. It is good to see him enamoured with someone, but he has to have his heart broken and ultimately we know he does die alone."
Will we see more of a reflection of the 1960s?
"There was a whole world of interesting stuff going on and it would be stupid not to use it. There is a tendency to have a femme fatale character, but we were missing a trick because it was an amazing time for women and now we can open ourselves up to more dynamic female characters who reflect society and the emerging women's lib."
Have you had people come up to you who have never seen the original?
"I have, but equally I've had a lot of people say, 'I really buy you as a young John Thaw,' and I'm pleased that Morse fans respond to the show and I wouldn't be here if it wasn't for what has gone before. But it has always been my intention to get a new audience to the show and to honour the original while doing something different, because it needs to move forward. We have discovered an open-mindedness where audiences are willing to embrace it. I have never been in this position before to pick a show up again and there is a responsibility to put our own stamp on things now."
Do you ever look back at the original Morse episodes?
"No, I didn't think that would be useful for this because when scripts arrive you have to depend largely on your imagination and that is not to do down anything that has gone before, but I want it be something that has come from me versus something that has been a copy of something else. I did listen to a lot of Michael Palin though, who was from the north and went to Oxford and was alive around that time. That is how I imagine Morse's voice to be and it was easier to capture his, but I didn't listen to John Thaw."
For the full interview, read TV & Satellite Week, which is out now.
Get the latest updates, reviews and unmissable series to watch and more!
Caren has been a journalist specializing in TV for almost two decades and is a Senior Features Writer for TV Times, TV & Satellite Week and What's On TV magazines and she also writes for What to Watch.
Over the years, she has spent many a day in a muddy field or an on-set catering bus chatting to numerous stars on location including the likes of Olivia Colman, David Tennant, Suranne Jones, Jamie Dornan, Dame Judi Dench and Sir Derek Jacobi as well as Hollywood actors such as Glenn Close and Kiefer Sutherland.
Caren will happily sit down and watch any kind of telly (well, maybe not sci-fi!), but she particularly loves period dramas like Call the Midwife, Downton Abbey and The Crown and she's also a big fan of juicy crime thrillers from Line of Duty to Poirot.
In her spare time, Caren enjoys going to the cinema and theatre or curling up with a good book.
Thank you for signing up to Whattowatch. You will receive a verification email shortly.
There was a problem. Please refresh the page and try again.