Heston Blumenthal serves up pie in the sky (literally)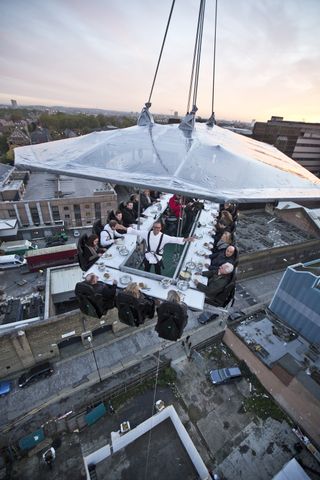 (Image credit: neale haynes)
Gastrophysicist Heston Blumenthal is back with more weird and wonderful takes on classic British dishes as Heston's Great British Food returns to Channel 4 for a second series (Thursday, May 1, 9pm).
So what will the creator of snail porridge and bacon and egg ice cream be cooking up this time? We caught up with him to find out what's on the menu…
What particularly appeals to you about this series?
"What's so great about this is that it still feels like I'm cooking, but I'm doing things you could never serve in a restaurant."
In series one you put a new twist on dishes such as fish and chips and roast beef with Yorkshire pudding. What classic British fare are you serving up this time?
"We're starting by showing that British curries are not a pale imitation of Indian curries, and looking at how pies have been popular with all levels of British society. There's also a cucumber sandwich afternoon tea and a programme that's all about chocolate."
You look into culinary history while recreating these classic dishes. What was the most interesting story you came across?
"There was one story about this dwarf Jeffrey Hudson, who was put in a pie wearing a suit of armour to impress Charles I. This knight in shining armour jumping out of a pie would freak you out, wouldn't it?"
What sort of pies did you make?
"We made a surprise pie inspired by the Jeffrey Hudson story. We laser printed my face on the top of the pie, and put it in a jack in the box. On a Sweeney Todd theme, we had a barber shop where the barbicide – the blue liquid they keep the combs in – is a cocktail, and there's edible hair and shaving foam that is a white truffle mousse. We also recreated a pie and mash shop, suspended it hundreds of feet of in the air and served pie in the sky."
You created a Bollywood themed curry night. What was on the menu?
"That's right, we turned this Victorian town hall into a curry house with Bollywood dancers and musicians. We made giant poppadums, which proved very tricky, and served chicken tikka massala in a soup can. We also made a 'beeryani' lager infused with rice and pandan leaf."
Did putting a new spin on afternoon tea allow you to indulge your love of Lewis Carroll?
"I've gone down the Mad Hatter and Alice in Wonderland route before, so this time we thought about the Earl of Sandwich. The story is that he didn't want to leave the gaming table so he sent someone out to make him something to eat and the sandwich was born. We made an edible gaming table, complete with playing cards and gaming chips."
Isn't chocolate more Belgian and Swiss than British?
"The commercial chocolate bar was born in Britain thanks to Quaker firms like Cadbury. We decided to make the largest chocolate bar in the world by sending moulds off to chocolate makers around the country. We forklift-trucked it into the middle of Somerset House in London, and you should have seen the look on people's faces."
What would you like your culinary legacy to be?
"If in any little way I can be part of the boom in food and cooking that's happened in this country and, almost as importantly, our reputation overseas. That's one of the things I wanted to try and explore with this series."
Get the latest updates, reviews and unmissable series to watch and more!
Thank you for signing up to Whattowatch. You will receive a verification email shortly.
There was a problem. Please refresh the page and try again.