Howards End's Bessie Carter, daughter of Downton Abbey star Jim Carter: 'Dad screamed when I got the part!'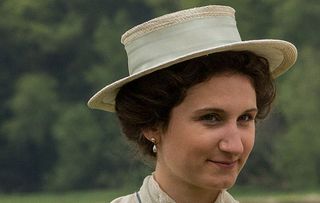 (Image credit: BBC/Playground Television UK Lim)
Bessie Carter reveals how proud her parents Jim Carter and Imelda Staunton are of her first big TV role in Howards End
As the daughter of acting legends Jim Carter and Imelda Staunton, Bessie Carter was destined to tread the boards herself. Now, after graduating from drama school last year, Bessie is tackling her first big TV role as wealthy Evie Wilcox in period drama Howards End.
But as Evie's father Henry (Matthew Macfadyen) becomes closer to kindly Margaret Schlegel (Hayley Atwell) this week, following the death of his wife Ruth (Julia Ormond), trouble is on the horizon.
Here, Bessie Carter tells TV Times about her role in Howards End and her proud parents…
TV Times: What's your take on Evie?
Bessie Carter: "I find her funny because she's really into exercise. It's the modern equivalent of people who ski every year and drink green juice and it's funny to play that in a petticoat! Evie's into simple things like cars and breeding puppies. She can't understand Margaret who's into books and poems and wants to help poor people. Margaret isn't immediately a threat because she is not in Evie's immediate circle. But as she slowly creeps into her family, Evie feels pushed out."
TVT: Was there a particularly memorable day for you on set?
BC: "Oddly, I really liked doing Ruth's funeral. There were about 20 of us walking with the coffin down a long path through a field. They'd frosted fake snow on the field and it looked really beautiful. Those moments make me think, 'I love this job,' because we were all buying into that world."
TVT: Was there fun during filming too?
BC: "Yes, I had a dream of a time. Matthew and Hayley were so welcoming and helpful with technical things like cameras but I also went punting in Cambridge with Jonah Hauer-King and Joe Bannister, who play Evie's brothers Paul and Charles. Punting is really hard but it was funny because people thought we were real Cambridge students!"
TVT: Did you watch the original 1992 film version with Emma Thompson?
BC: "I did and my family are Emma's neighbours so I've known her since I was a tiny child. I spoke to her about it and told her I had got the job. Watching it now, the film is still fantastic and people love it so I'm intrigued to see what they make of this because it feels modern, it's not old-fashioned."
TVT: What do your parents think of you becoming an actress?
BC: "They're thrilled but they can't believe it's happening. When I called them and told them I got this job, I've never heard Dad's voice go that high-pitched before, he was screaming! It was weird though, there was never a moment of me saying, 'I'm going to be an actor,' it just naturally went that way. I loved doing school plays and I was used to being backstage with my parents and hiding in the wings. They never told me to do it or not to do it. When I got into drama school they just felt, 'She really wants this and hopefully she can do it a little bit!'"
TVT: Do they give you advice?
BC: "They give advice when I ask for it but they don't really want to push it! I just ask Dad what words mean or about pronunciation because I want to do this on my own and find my own way. Also, because I moved out last year, we are not so much in each other's worlds anymore. We do a nice FaceTime every once in a while and I give them updates."
TVT: We've also seen you in an episode of Doc Martin recently as a sailing instructor, was it fun to do something contemporary?
BC: "Yes, I feel I'm getting a good mixture of things under my belt. I love a bit of period drama and Howards End feels like a good first step for me, although I did Cranford with my parents when I was about 14. But in Doc Martin, it was great to wear a jumpsuit and a Beanie. Next I'll have to do something in space with CGI!"
Howards End continues on Sunday at 9pm on BBC1
Get the What to Watch Newsletter
The latest updates, reviews and unmissable series to watch and more!
Caren has been a journalist specializing in TV for almost two decades and is a Senior Features Writer for TV Times, TV & Satellite Week and What's On TV magazines and she also writes for What to Watch.
Over the years, she has spent many a day in a muddy field or an on-set catering bus chatting to numerous stars on location including the likes of Olivia Colman, David Tennant, Suranne Jones, Jamie Dornan, Dame Judi Dench and Sir Derek Jacobi as well as Hollywood actors such as Glenn Close and Kiefer Sutherland.
Caren will happily sit down and watch any kind of telly (well, maybe not sci-fi!), but she particularly loves period dramas like Call the Midwife, Downton Abbey and The Crown and she's also a big fan of juicy crime thrillers from Line of Duty to Poirot.
In her spare time, Caren enjoys going to the cinema and theatre or curling up with a good book.