Howards End star Matthew Macfadyen: 'It's about sex, money and power!'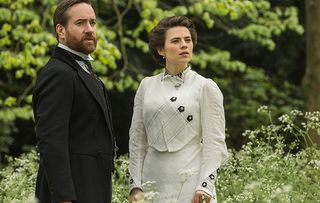 (Image credit: BBC/Playground Television UK Lim)
Matthew Macfadyen and Hayley Atwell reveal all about class conflict, classic adaptations and pesky beards in a new version of Howards End
Howards End, EM Forster's 1910 novel about class division, is being brought to life in BBC1's sumptuous four-part adaptation. The Edwardian-set drama stars Agent Carter actress Hayley Atwell as forward-thinking intellectual Margaret Schlegel, whose family becomes embroiled with that of wealthy Henry Wilcox, played by Ripper Street star Matthew Macfadyen.
Here, Hayley and Matthew tell TV Times about starring in the lavish new version of Howards End…
TV Times: How would you describe your characters?
Hayley Atwell: "Margaret has a wonderful warmth and is an eccentric character. She's an independent thinker but she's disillusioned. She feels she can talk about social affairs but not do anything about them, so she is searching for her place in the world." Matthew Macfadyen: "Henry's one of those manly men of that time who isn't prone to bouts of introspection or navel-gazing or talking about feelings. He's very confident and pig-headed."
What's their relationship like?
MF: "Henry doesn't have the tools that Margaret has to deal with the complex situations that arise; he gets frightened. They're probably not a natural match, but she's attracted by his self-possession and it's a slow burn." HA: "Yes, they have a different set of values and it begins as something that isn't rational and she doesn't understand it herself. She has self-awareness and he is emotionally constipated but she ultimately finds that endearing because his intentions are good."
How important is class to the drama?
MM: "Hugely and it's just wonderful. It's about sex, money, power, and how people operate in society and that doesn't go out of fashion does it? It's fantastic because you see everyone's point of view." HA: "It brings up really interesting questions because you have capitalists with a drive for power and people at the lower end who are teetering on the abyss but know their place better than the Schlegels who are the wandering middle class. The novel talks about how we should "only connect" and that becomes Margaret's message. She wants to connect everyone together so that things become classless."
The novel was previously adapted for an acclaimed 1992 film starring Anthony Hopkins as Henry and Emma Thompson as Margaret. Did you have any qualms about stepping into their footsteps?
HA: "No but I wrote an email to Emma, who played my mum in [2008 film] Brideshead Revisited, and said, "They are doing the impossible because you are the definitive Meg." But typical of Em, she was generous and told me not to watch anyone else doing it and gave me some wonderful advice. I didn't feel daunted, it is an amazing opportunity and we feel safe walking a path that has been well trod before." MM: "Yes, I think you only ever feel thrilled to be doing the part and if wonderful people have played it before, then the more the merrier, and in a weird way it's comforting to step into their footsteps."
And Matthew, we have to ask about your rather lustrous beard – is it all your own?!
MM: "Ha ha! Well in the early days it wasn't as lustrous as now so I spent a lot of time in the make up chair because they had to help it along with individual hairs attached with glue. But after filming, the beard is coming off. My children are getting increasingly worried about it!"
Howards Ends airs on Sunday 12th November at 9pm on BBC1
Get the What to Watch Newsletter
The latest updates, reviews and unmissable series to watch and more!
Caren has been a journalist specializing in TV for almost two decades and is a Senior Features Writer for TV Times, TV & Satellite Week and What's On TV magazines and she also writes for What to Watch.
Over the years, she has spent many a day in a muddy field or an on-set catering bus chatting to numerous stars on location including the likes of Olivia Colman, David Tennant, Suranne Jones, Jamie Dornan, Dame Judi Dench and Sir Derek Jacobi as well as Hollywood actors such as Glenn Close and Kiefer Sutherland.
Caren will happily sit down and watch any kind of telly (well, maybe not sci-fi!), but she particularly loves period dramas like Call the Midwife, Downton Abbey and The Crown and she's also a big fan of juicy crime thrillers from Line of Duty to Poirot.
In her spare time, Caren enjoys going to the cinema and theatre or curling up with a good book.