Jo Brand and Alan Davies star in new comedy about social workers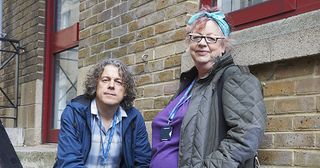 Comedian Jo Brand is set to star in Damned - a brand new comedy about the lives of social workers. Here Jo tells What's On TV all about the series.
Former psychiatric nurse Jo Brand has turned her attention to the much-maligned profession of social work in the Channel 4 comedy Damned, which stars Brand and Alan Davies as Rose and Al, two social workers employed by the children's services department of a county council.
They line up in a stellar cast that also includes comedy stars Kevin Eldon, Morwenna Banks, Aisling Bea and Isy Suttie as well as EastEnders' Himesh Patel and Georgie Glen from Waterloo Road.
Jo tells us more about the brand new series...
What made you want to write about social workers? "When you write, it's a good idea to write about what you know. So I wouldn't write a sitcom based in a nuclear power station. And social services haven't been on the telly that much, apart from in the odd documentary."
Social workers often get bad press. Did you want to use Damned to change public perception? "I grew up seeing social workers go unrecognised for the good things they did and castigated for the bad. Damned is an attempt to portray the tragic-comic lives of social workers – always under pressure, always in possession of a grim sense of humour and always wrong in the eyes of the public."
A children's services department seems like an unlikely setting for a comedy. How did you bring humour into it? "If you've worked in any profession which puts emotionally stressful demands on you – doctor, ambulance driver, paramedic, social worker – you use humour to get through it".
How did the series get its title? "The title of the series is short for 'Damned if you do, damned if you don't' – reflecting the fact that, no matter what they do, social workers seem to come under fire in the media. It is a blame culture. In theory you should blame the person who's harmed the child, shouldn't you? But what people tend to do is blame the social worker for not picking it up. How can you predict whether one person out of thousands is going to be the one who actually damages a child so badly that it kills them? It's an awful position to be in."
When did you decide to leave your job as a psychiatric nurse? "At any one time, roughly 25 per cent of staff are off sick with stress. I worked in a department where the turnover for staff nurses was six months on average. I was there for six years and I loved it, but I was getting to the stage where I thought: "I don't know how much more of this I can take". It was time to have a change."
Damned starts on Channel 4 on Tuesday 27 September.
Get the What to Watch Newsletter
The latest updates, reviews and unmissable series to watch and more!