Jodie Marsh reveals £10K sex offer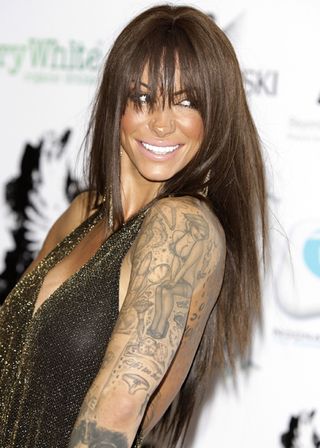 Reality star turned bodybuilder Jodie Marsh has revealed that she was offered £10,000 to sleep with an A-list star early in her career - but refused.
Speaking at the launch of new channel TLC (opens in new tab), Jodie said that the incident occurred when she was working as a lap dancer at London nightclub Stringfellows.
And she has drawn upon her own experiences for a new documentary on the channel, Jodie Marsh On The Game, in which she takes an in-depth look at the seedy side of the sex industry.
"I was offered money for sex on a regular basis when I worked at Stringfellows," she said.
"I was offered £10,000 one night to go home and sleep with a very famous customer. Everything about him was gross. I felt sick by the whole thing."
She added: "My reaction was 'f*** off mate! Literally, in his face, I just went 'who the f*** do you think you are?
"I was about 21, 22, and I literally stood in his face and went 'F*** you! How dare you? I'm a f*****g dancer, I'm not a f*****g prostitute! I was really angry about it.
"I was young, I was feisty and I felt insulted that he'd even asked me. It's tough when you are working in the sex industry in any form."
Jodie - who admitted that she wanted to forge a career in documentary-making - saying: "I want to be the new Louis Theroux" - also revealed she has fronted a show in which she examines the effects of steroids.
"I set out to investigate why people take them, what the dangers are - if there are any dangers, or if they are good for you - whatever the case may be," she explained.
"The conclusion is they are bad for you. I met women and men who are on steroids and every single one of them has the most shocking things to either tell me or show me."
Get the latest updates, reviews and unmissable series to watch and more!
Thank you for signing up to Whattowatch. You will receive a verification email shortly.
There was a problem. Please refresh the page and try again.