Joe Sugg EXCLUSIVE interview! 'It feels like a movie plot!'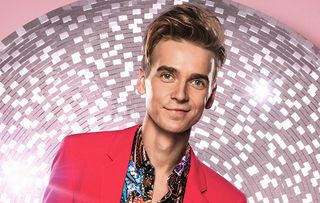 (Image credit: BBC)
Strictly's leading man on taking his nan to Blackpool and his old life as a roof thatcher...
Everyone's talking about Joe Sugg. The YouTube sensation is taking Strictly Come Dancing by storm, winning over fans with his charm, enthusiasm and show-stopping routines. His jive wowed us all, and he's even renamed a dance – it's the "Paso Joe-ble" these days!
Lovable Joe, 27, is now training hard for Strictly's annual trip to Blackpool, the home of ballroom dancing and a special place for his family, as Nana Phyllis used to dance there in her youth.
Here, in an exclusive interview, social media star Joe Sugg reveals he never expected to become famous, or to do well on Strictly – but he's loving every single moment…
Joe, you must be excited for Blackpool?
Joe Sugg: "Yes! Even from the start I said the main goal would be to get to Blackpool. Obviously getting to the final or winning would be great, but this episode is such a big thing for me, because it means a lot to my nan. Plus it's like Strictly on holiday, which I can imagine is a great atmosphere. I've never been before, so I'm excited to see what it's like. Is it cold? I hate the cold and so does Dianne, so I'll make sure I pack extra coats and get the longjohns out!"
Your Nana Phyllis must be delighted you'll be on the floor at the Tower Ballroom?
JS: "Yes, I wanted her to see me perform there because she's a dancer and she danced there in her 20s. She's 96 now and in a wheelchair, but hopefully the Blackpool Tower is modernised and has a ramp! It means so much to me to have her there, she's such a proud nan! All my grandparents are so chuffed, my granddad even has Instagram to see what my sister Zoella and I are up to."
Wow, your granddad sounds cool!
JS: "He's got 120k followers but the first photo he ever took was of his knee because he didn't understand how to use the camera! My nan is taking it over and learning too. I'm an ambassador for the charity Age UK and it's so nice to see that just because you're older it doesn't mean you can't do things or learn to use technology. It's just like me learning to dance, with a bit of time and patience you get there."
You've become a serious contender for the glitterball, did you always think you had it in you?
JS: "No, I've definitely surprised myself. I'm always such a perfectionist, even when I watch these videos of the performances back afterwards I notice I missed a step there or my thumb was poking out a little bit here…realistically it's not the end of the world but I can be hard on myself. It's been going well though, it's so much fun! Everyone's so nice too, and Stacey (Dooley) is like a big sister to me – we text throughout the week to ask about each other's dances, she's great."
You're really putting in the hours in the training room aren't you?
JS: "At the moment I'm literally devoting all my time to this. I'm starting to ache – I always need extra time in physio after the Latin routines, they take their toll! I just really appreciate the fact that Strictly is a once in a lifetime opportunity, you get one go at it and I know when I watch the show next year I'll have massive FOMO (fear of missing out). So I'm trying to make the most of it and live every moment to the full. I don't want it to end!"
You agreed to dye your hair red, to match Dianne's, if you got to the final – do you regret saying that now?!
JS: "A little bit! I did have a streak of red on Halloween week so that kind of counted… I might spray it but I'm definitely not going to do permanent dye, I don't think I could pull that off. My audience are definitely against it, they get so protective over my hair. There's actually a twitter account called Joe's Hair and they're not happy at all, they're fighting the suggestion of red dye!"
You were working as a roof thatcher before you started your YouTube channel, with no aspirations to become famous. How strange is it to now find yourself on Britain's biggest TV show?
JS: "This was all unthinkable to me. The amount of times I have pinch yourself moments, sitting in the bath just contemplating how weird it is that six years ago I was convinced I was going to be a roof thatcher, up on a roof on cold January mornings well into my 70s. Then my hobby became a career and has now has led to Strictly. It feels like a movie plot!"
You seem to have your feet firmly on the ground, does it help that you had some life experience before becoming famous?
JS: "Definitely, the thatching days helped but also the fact that I'm still so close to my friends from back home, who all lead normal lives with 9-5 jobs. I speak to them more than my YouTube mates. We chat every day and they don't just agree with me because of my job, they challenge me and know what's best for me."
Do you think your fanbase is changing since signing up to Strictly?
JS: "100%, we get stopped a lot when we go out for lunch breaks and it's so nice to have a chat with a completely different demographic. I still obviously love and appreciate the younger audience, but one of the main things I wanted to achieve from the show was to get kids and their parents watching something together, and also to hopefully make it a bit more OK for younger guys to get involved in dance. I've had so many messages from guys saying they've decided to go along to dance classes with their girlfriends after watching me and that really makes it worthwhile. Even when I was at school it was not cool to dance, hardy any boys did it, but hopefully that's changing."
Strictly is a great boost for your profile – what would you like to do next?
JS: "When I signed up to do the show I didn't even think about what would happen afterwards – I was convinced I'd be out in the first couple of weeks because I'd never tried to dance before. I thought my following could vote me through to movie week but I wouldn't have the skill to get further. We'll see what happens. I didn't do the show because I was unhappy with work, I just thought it would be a great experience. I'm completely open to ideas, if anyone has a show they want to put me in, come and have a chat with me!"
We see you as the next Phillip Schofield…
JS: "That's a massive compliment, I love him!"
Watch Joe Sugg in action this Saturday on Strictly Come Dancing.
Get the latest updates, reviews and unmissable series to watch and more!
Thank you for signing up to Whattowatch. You will receive a verification email shortly.
There was a problem. Please refresh the page and try again.