Hollywood star Julia Roberts talks her new TV drama Homecoming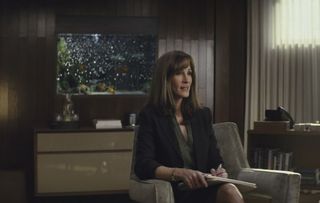 Julia Roberts on how her demanding new role in Amazon Prime Video's new psychological drama, Homecoming reduced her to tears.
We interview many incredible stars here, but it's not every day we meet Hollywood royalty.
Luckily for us, Oscar winner Julia Roberts has been in town promoting her new series Homecoming, a mysterious psychological thriller (already commissioned for a second series) that you can see on your laptop, phone or Smart TV if you have an Amazon Prime account.
Julia plays Heidi, a case worker at an institute that helps to rehabilitate soldiers when they come home from military action. Here she tells us how she found herself on the small screen and why she's never worked so hard…
How does TV compare with Hollywood films?
"It's actually not too dissimilar. A lot of TV shows have a different director for every episode, but I requested to just have Sam for the whole shoot. I didn't want a different person trying to understand how my brain works every week, that seemed unfair to them! I don't think I've been offered a TV role before, but there's some amazing content now. I love it when a medium is constantly re-inventing itself and television is so innovative."
Why did you want to be in Homecoming?
"It was the whole package but particularly the story, it's so complex and fascinating, all the characters reveal themselves in interesting ways. It's based on a podcast, which I listened to and loved, there's real suspense to it. My friend and a wonderful actress, Catherine Keener plays my character, Heidi, and I asked why she wasn't doing the TV series. My big fortune was that she was busy doing something else! Heidi is such a well-intentioned character, I spent time trying to understand her vulnerabilities and what makes her powerful, it was like playing two characters, really, because there are two timelines. I had a number of wig fittings!"
Sissy Spacek plays your mother, Ellen, did you enjoy working together?
"I'm in love with Sissy! I've known her since I was 13 years old so she might as well be my mother, I'm the luckiest person. Nothing makes it easy to act with her on the first day because she's so amazing, but she was so sweet. I'm also reunited with Dermot Mulroney on this, because Sam likes My Best Friend's Wedding and it was his dream to bring us back together!"
TV is very fast-paced, did you have less time to prepare for the role than in films?
"No, but I definitely had a lot less time at home to cook and do laundry – in the evenings when my kids finished their homework I would still be doing mine! It took a lot of brainpower because there were pages and pages to learn, when I first got the script it was in a huge binder and I shed a couple of tears. Even my husband said he hadn't seen me work so hard in my life. But it was a joy, even though it was relentless – TV is not for the faint-hearted!"
Do you watch much TV?
"Peaky Blinders has knockout production values, the costumes and set are so innovative. I keep talking about Fleabag, which is my favourite show. I think I am the last to the party with it though, I am so slow with watching everything that is out. I need to check out Killing Eve too. My favourite series of all time is Happy Days!"
Homecoming premieres from Friday 2nd November on Amazon Prime Video
https://youtu.be/9WJSdpE-sJQ
Get the latest updates, reviews and unmissable series to watch and more!
Thank you for signing up to Whattowatch. You will receive a verification email shortly.
There was a problem. Please refresh the page and try again.