Ken Stott: 'I don't know why there's a second series of The Missing' (VIDEO)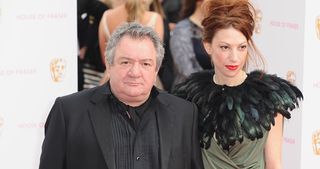 (Image credit: Zuma Press/Press Association Ima)
The Missing star Ken Stott has told What's on TV the second series of the BBC1 thriller has a 'flimsy premise' and is being made for financial reasons.
Ken told What's on TV at the BAFTA TV Awards: "I do wonder why there's a second series to be perfectly honest. I don't really understand why there should be one... It's rather flimsy premise."
Ken continued: "We live in a world where money rules and art has to follow. The world of single drama is dead. What's the point? If I'm a banker I think, 'What the hell are doing a single drama for! It doesn't make sense.' It does make sense artistically, but what the hell, let's make money!"
Ken was BAFTA nominated as best supporting actor for his performance as paedophile Ian Garrett in The Missing, but lost to The Honourable Woman star Stephen Rea.
Did he realise he was working on a drama that was destined to be one of the biggest hits of 2014? "When we were doing it no. It seemed to be a good... Otherwise I wouldn't have done it. It seemed to me to be very good, I enjoyed it very much. I didn't think it was necessarily BAFTA-winning material, but who knows?"
Ken wondered if the Madeleine McCann case meant the child-abduction storyline had a ready-made audience. "I wonder if the business in Spain those years ago when [Madeleine McCann] was abducted, I wonder if that story embedded itself in British socity... That could have polarised opinion, or brought it right into sharp focus."
Get the latest updates, reviews and unmissable series to watch and more!
Thank you for signing up to Whattowatch. You will receive a verification email shortly.
There was a problem. Please refresh the page and try again.