Lenny Henry: 'I love being an actor'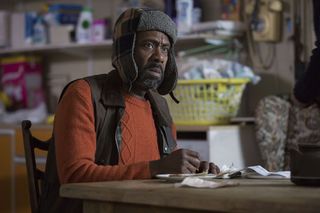 Lenny Henry is best known as a comedian but these days he's better known for acting.
The former stand-up can be seen in the latest series of The Syndicate – Kay Mellor's drama about lottery winners – which begins on Tuesday.
He plays a gardener obsessed with number patterns, who secures a lottery win for himself and his colleagues.
He says that being a comedian is great preparation for making the move into acting.
"I think it's because you're used to keeping your straight face when you're doing your set-up. You learn to be compelling and to tell a story and to convince the audience, before you switch it [for the gag].
Lenny Henry in The Syndicate (BBC)
"I'm never surprised when I see Jack Dee or Russell Brand or Eddie Izzard [acting]. It's part of your upbringing. It's the skill of describing something that happened, the art of exaggeration, of allegorical storytelling, of metaphors. All these skills you have in your toolbox are brought to bear."
Lenny, 56, said that his background had served him well when he went into theatre work: "Ahead of doing a soliloquy in Othello, [the director] Barrie Rutter said, 'You've done this before, it's like stand-up, he's telling a story', and I thought, 'Oh, I'm talking to the audience, oh I can do that, I've been doing that since I was 16′."
And Lenny insisted his stand-up days were likely behind him.
"I'm loving being an actor," he said. "Since 2009, it's what I've done, mainly. I love comedy as a fan and a consumer, but it's one of the things I can do and used to do but don't any more."
However, not everything about his role in The Syndicate was a walk in the park, including his lines about numbers.
He admitted: "Argh, did I find it tough to learn! It's just hours and hours of learning these sequences and numbers and being concerned about them. And numbers are right or wrong, so you've got to get your line right or it messes up the scene."
The Syndicate begins on BBC1 on Tuesday 2 June at 9.00pm.
Get the latest updates, reviews and unmissable series to watch and more!
Thank you for signing up to Whattowatch. You will receive a verification email shortly.
There was a problem. Please refresh the page and try again.