Lesley Manville: 'Mum makes you laugh and cry'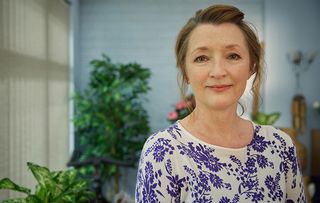 (Image credit: BBC/Big Talk Productions)
Lesley Manville on her thrill at returning for a second series of BBC2's award-winning comedy Mum
Lesley Manville returns for a second series of BBC2's Bafta-winning comedy Mum as put-upon Cathy, who is enduring widowhood while dealing with her eccentric family, from her son's dopey but lovable fiancée Kelly (Lisa McGrillis) to her brother's snobbish partner Pauline (Dorothy Atkinson). Meanwhile Cathy's quietly besotted family friend Michael (Peter Mullan) does his best to hide how much he adores her.
Here, Lesley Manville tells TV Times what's in store in the second series of Mum…
TV Times Were you surprised at the amazing reaction to the first series?
Lesley Manville: "We all felt it was good but we weren't prepared for how well it was going to be received. What I love is that it straddles drama and comedy. You can watch and laugh and then in the next five minutes you're crying. It's not here's-the-gag comedy; it is about these people's lives."
TVT Is that part of the appeal for you?
LM: "Yes, I wouldn't have any interest in doing a studio audience-type comedy. But with Mum, I can carry on doing what I do in drama because it is so character-driven. If any of us tries to deliberately make something funny, we get slapped wrists from the director immediately!"
TVT Will Cathy and Michael finally get together this series?
LM: "They're still the emotional centre and you view this mad world through their eyes. But love takes time doesn't it?! Michael is an old friend who was part of the family when she was married and her husband has only been gone for a year. Also, Cathy is treading on eggshells because she hasn't dated for 40 years. She doesn't quite know what to do. Michael's interest is clear, but maybe Cathy will start to have little flashes of something too…"
TVT She has the patience of a saint; will she ever snap at her relations?
LM: "She is an incredibly kind woman and she lets it all wash over her, but she isn't a doormat. One day she might get cross with them, perhaps with Pauline. Dot, who plays her, does another series with me called Harlots [ITV's drama about Georgian prostitutes] and we're filming a second series. I play the vilest person on the planet and she plays a very religious lady but each time I'm horrible to her in that, I just tell her, 'This is Cathy's revenge!'"
TVT Do you laugh a lot during the filming of Mum?
LM : "Yes! I'm the straight one in it but the others make me laugh. It has been such a big love-in though and I have made really close friends. I live near the studios in London where we film and some of the cast came over to mine for sleepovers. I was a bit like Cathy but there was more gin around than Cathy has!"
TVT Are there are more great roles for mature actresses now?
LM : "Definitely. Mum has really caught the zeitgeist and things are getting better for older women because people realise that there is a huge audience of over-40s who want to go and see things that deal with their lives."
Mum returns on BBC2 on Tuesday 20 February at 10pm
Get the latest updates, reviews and unmissable series to watch and more!
Thank you for signing up to Whattowatch. You will receive a verification email shortly.
There was a problem. Please refresh the page and try again.