Lose Weight for Love: Why the BBC split up overweight couples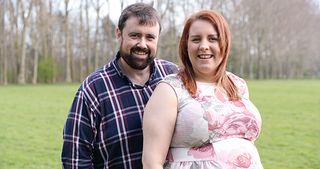 (Image credit: BBC / Renegade Pictures)
We may all be familiar with the concept of comfort eating, but it seems we should also be worried about 'comfortable' eating.
More than 60 per cent of people put on weight when they are in a contented relationship. Couples are their own worst enemy when it comes to over-eating as there is always a partner in crime on hand to tuck into a takeaway with or help polish off a packet of biscuits.
A new BBC1 series Lose Weight for Love (opens in new tab) (Wednesday, May 18) aims to break that cycle in a radical way – by separating overweight couples for 10 weeks.
During that period, each partner is given an individual health and fitness plan and, with the support of clinical psychologist Tanya Byron, personal trainer Rick Shakes-Braithwaite and behavioural scientist Paul Dolan, will hopefully learn to change their eating habits for good.
In the first episode, Phil and Becky from Warrington, Cheshire, take on the challenge and they spoke to TV Times about the experience...
When you first met four years ago, did you both over-indulge with food and drink?
Phil: "The amount of pop I drank was obscene. I was drinking three litres a day. I couldn't go a day without it. It was like crack cocaine to an addict. Takeaways and eating huge meals at night made me pile on 10 stone, taking my weight up to 24 stone, while Becky put on three stone, going up to 17 stone."
Did you try to diet?
Becky: "We did all the fad diets. We even did one where all you had was sugar-free jelly and Oxo cubes. But the failure of those extreme diets meant we were ready to try something as drastic."
You chose to live apart for nearly three months in order to overhaul your lifestyle. How difficult was that decision?
Phil: "We were a little worried about separating, but it was for the right reasons and if we couldn't spend 10 weeks apart for the benefit of both of us, then our relationship wasn't worth anything, was it?"
Becky: "We have three children and I was suddenly a single parent. You don't realise how much you are used to having someone there all the time and how much you support each other."
Did you both manage to follow the rules?
Becky: "It was awful of me, but I kept thinking, "I don't think Phil is sticking to it and that would make me angry. But then in the back of my mind I would be thinking, 'He might be doing really well so I have to do better.' Because we are competitive."
What was your new regime like?
Becky: "It involved taking regular exercise, which Phil was forced to do gently at first because of worryingly high blood pressure, but I was given a surprising confidence boost.
"I was quite shocked when the personal trainer said that I had the ability to be quite athletic, as the only exercise I had been doing was a bit of walking, because I don't drive, and Morris dancing."
We find out in the programme if you managed to achieve your target weight, but are you both pleased you took part?
Phil: "I would recommend it to anybody who has tried fad diets because with them you end up so hungry you just want to eat the world."
And it seems, the separation has brought you even closer together
Phil: "It certainly has... Becky is pregnant and we are having another baby in June!"
Get the What to Watch Newsletter
The latest updates, reviews and unmissable series to watch and more!