Matt Smith and Claire Foy admit sometimes being posher at home since filming The Crown!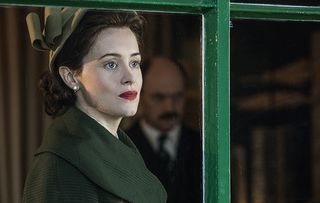 (Image credit: Stuart Hendry / Netflix)
Matt Smith and Claire Foy reveal all about the second series of The Crown and why they are sorry to leave their roles as The Queen and Prince Philip
As the second series of award-winning Netflix drama The Crown explores the scandals, crises and changing opinions of the monarchy that the royals faced from 1956 to 1964, Claire Foy and Matt Smith, who play the Queen and Prince Philip, tell TV Times what to expect…
TV Times: Suspicion and rumours blight Elizabeth and Philip's relationship this time. What can you tell us about that?
Claire Foy "This series is about their ever-evolving marriage. The interesting thing is that they can't break up! They have to navigate their relationship through a difficult situation and they succeed in their own lovely way." Matt Smith "Philip goes off for five months traveling round the world and does what he wants. When he comes back though, it's still not easy to negotiate everything. They also have two more children [Andrew and Edward] so it's about what that does to their relationship and how they parent."
TVT: Are they finding their feet in their roles as monarch and consort now?
CF "The Queen's role is more clearly defined. She has come to terms with it and is more certain of her duty. But Philip is still not sure where he sits in this whole set-up, so he struggles. The difficulty is that the Queen is going, 'Well I know what I'm doing. What's wrong with you?' You learn a lot about Philip in the second series though. It's an extraordinary story."
MS "Yes, there's a lot about his family history, which is fascinating; there could be a series just about that!"
TVT The Queen's friendship with Churchill (John Lithgow) was integral last series, what is her relationship like with her Prime Ministers this time?
CF "It's different as she is not the pupil any more, but she has interesting dynamics with her new Prime Ministers. At the start she has Anthony Eden [Jeremy Northam] who is very intelligent and they have a really friendly relationship and then she has Harold Macmillan [Endeavour's Anton Lesser]. They both leave office early and that puts pressure on the Queen as the figurehead of the country who has to be stable and show continuity. Maybe that's what set her up in the role."
TVT Do you feel extra pressure this year because series one of The Crown did so well?
CF "We didn't feel pressure because we started shooting this series before the first came out, so we didn't know whether anyone was going to like it! It's just lovely that people took it to their hearts and genuinely cared about the characters as we did. There's pressure in that you don't want to get complacent and feel like you know what you're doing though, but luckily I've never felt that way because we don't know if we are coming or going! It's constant change on this show, which makes it exciting." MS "Yep, you really have to be on the ball. In one week alone I was shooting for four different episodes and for Philip's tour we filmed in South Africa, which doubled up as Papua New Guinea, Tonga, Australia and Antarctica, which was great."
TVT Do you ever find yourself becoming more like your characters?
MS "I sometimes find myself being posher at home than I am. But only for a moment, then I think, 'Oh no, shake it off!'" CF "Yes, I'm much more 'Ooh, no' [puts on prim voice], which is awful, but maybe that's just me getting older."
http://www.youtube.com/watch?v=ME2umFQ_xBA
TVT This is your last series playing the Queen and Prince Philip [Olivia Colman will play the Queen in the next series], how do you feel about leaving The Crown?
CF "As an actor, I'm really excited to play new parts and have the challenge of doing other things and I know Olivia is amazing; we will just be a flash in the pan! But it also makes me sad to go because this cast and crew is a family. I've loved everything I've done with Matt especially." MS "Right back at you Claire. Olivia is a wonderful bit of casting; you'll forget us! But I will miss it too because we've had such a nice time on set, it just works, and the show has been of such good quality, which is rare. It has been a huge moment in our lives and a bit of historic television that has left a footprint and if it can maintain that level over the next few years then it will be something very special."
The Crown series two will on Netflix from Friday 8th December
Get the What to Watch Newsletter
The latest updates, reviews and unmissable series to watch and more!
Caren has been a journalist specializing in TV for almost two decades and is a Senior Features Writer for TV Times, TV & Satellite Week and What's On TV magazines and she also writes for What to Watch.
Over the years, she has spent many a day in a muddy field or an on-set catering bus chatting to numerous stars on location including the likes of Olivia Colman, David Tennant, Suranne Jones, Jamie Dornan, Dame Judi Dench and Sir Derek Jacobi as well as Hollywood actors such as Glenn Close and Kiefer Sutherland.
Caren will happily sit down and watch any kind of telly (well, maybe not sci-fi!), but she particularly loves period dramas like Call the Midwife, Downton Abbey and The Crown and she's also a big fan of juicy crime thrillers from Line of Duty to Poirot.
In her spare time, Caren enjoys going to the cinema and theatre or curling up with a good book.