Paul O'Grady's Animal Orphans: It was love at first sight with Archie the orangutan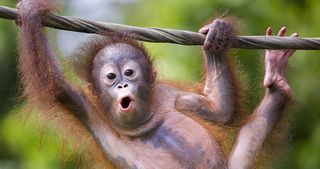 The new series of Paul O'Grady's Animal Orphans returns to ITV on Thursday, April 14 and follows Paul as he visits sanctuaries in Borneo, south-east Asia.
Here he tells TV Times how his heart was stolen along the way by a baby orangutan called Archie.
What was so special about Archie, Paul?
"I discovered what love at first sight was. I was smitten. I've never seen anything like a baby orangutan before. Their faces, their expressions, their ears, their hands, everything are all the same as children's. Of all the animals I have met on my travels, it was the closest bond I have felt to a baby."
So, presumably you were only too happy to do your bit at the Sepilok Orang-Utan Rehabilitation Centre where Archie lives?
"I'd be singing to Archie like I would to a baby. Or I'd be holding him and patting his back, like I'm winding him after he's had bottle. You can't help it, they're so human."
Given the chance could you see yourself working with animals full time?
"When I was at the elephant orphanage in Zambia for the last series of Animal Orphans I said on camera, 'I'm going to stay.' It's really hard to leave."
We hear you're about to start filming a new series of For the Love of Dogs at Battersea, after saying there probably wouldn't be another one…
"I said, 'I'm not going to go back' and now I'm going back next week! I had to give in."
And you've started work on another book, haven't you?
"It's a children's novel about a little boy called Eddie Albert who can speak to animals. He has a hamster, a French lop-eared rabbit, who used to be a film star, three Scottish mice and two goldfish who think they're pirates. I have to stop myself writing about the villains because it's not about them, but I'm drawn to them because they're fabulous. It's all about conservation, but I'm not shoving it down kids' throats."
Paul's orphans...
Archie the orang-utan
Paul's heart melts when he first lays eyes on Archie and the feeling is mutual. "Sue who runs the Sepilok sanctuary told me he doesn't go to anyone but he went straight to me," said Paul. "She said, 'He'll never let you feed him.' And he took the bottle from me right away."
Peeka the gibbon
Eight-month old Peeka (pictured) was found lying on the ground in the rain forest with her mother nowhere to be seen. As with Archie, Paul teaches her to do what should come naturally – climb trees. "She was such a lovely little thing and she didn't want to do it at first. But when she did, I was so proud of her."


Tan-Tan the sun bear

Although Paul is captivated by the young bear, rescued from the pet trade, he was actually itching to get out of the cub's pen. "I had an army of red ants marching up my legs inside my trousers. We were getting to a really good bit in filming and I thought, 'I can't run out.' So I had to get on with it. You should see my legs. They look like the surface of the moon!"
Bukan the slow loris
Much prized in the pet trade after a YouTube clip of a Ioris being tickled went viral, the big-eyed creature is actually one of the most poisonous mammals in the world. "They're not suitable for pets and they have a deadly toxic bite," explained Paul. "Bukan was probably kept in a really small cage and the stress caused him to chew his hand so much that vets had to amputate it."
Get the What to Watch Newsletter
The latest updates, reviews and unmissable series to watch and more!