Pete's Peek | When Donnie Darko met Heathers - could Excision be the next teen angst cult film?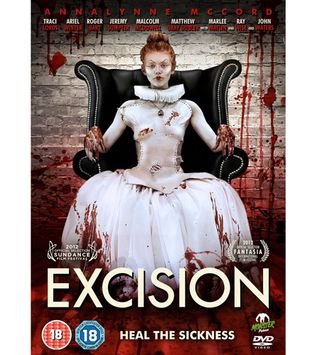 Writer/director Richard Bates Jr's debut feature, Excision, is a twisted teenage angst black comedy horror that's one of the most audaciously original indie films to come out in a while.
90210's AnnaLynne McCord plays awkward high school loner Pauline, who is obsessed with sex and surgery, and has warped dreams that look like a bizarre bloody fashion shoot dressed in good-looking decapitated corpses. At school, the disturbed teen takes masochistic pleasure in clashing with the pupils and teachers, while at home she tries the patience of her domineering and devoutly Christian mother, Phyllis (Tracy Lords). But when she is expelled, the increasingly delusional Pauline goes to horrifying lengths to win back her mother's love.
Like Heathers, Virgin Suicides and Donnie Darko, Excision belongs to that rarified group of teenage angst movies where there's more than meets the eye. It might contain some gross-out scenes, but it fuses its savage satire, domestic drama and darker themes with emotion and insight. And, at its heart, Excision is also about the bond between mother and daughter and the two leads balance the pathos and comedy brilliantly. Tracy Lords gives her best performance period, while McCord is out-and-out amazing as the surly Pauline.
Having John Waters in a cameo is certainly serendipitous as the film has a real Waters vibe going on – with a bit of Carrie thrown in (especially the cotillion scenes). Other famous faces popping up in Bates's debut (how did he do it) include Malcolm McDowell as a stern maths teacher (in a role that's polar opposite to his Mick Travis character in 1968's if…), Marlee Matlin (who gets in an hilarious deaf joke), and Modern Family's Ariel Winter as Pauline's sister Grace, whose declining health drives Pauline to commit her extreme act of love.
Excision has got cult film written all over it and marks the director as one to watch. I can't wait to see what he dreams up next.
On limited release in UK cinemas from 2 November (check here for details) On Blu-ray, DVD & Download, 12 November
http://youtube.com/v/Zp0A4sQWjvs
Get the latest updates, reviews and unmissable series to watch and more!
Thank you for signing up to Whattowatch. You will receive a verification email shortly.
There was a problem. Please refresh the page and try again.