Outcast star Philip Glenister: 'There is a lot of fake blood flying around' (VIDEO)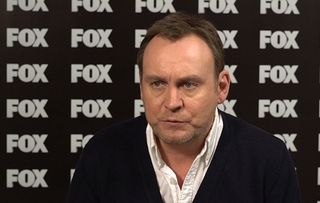 Philip Glenister plays a Southern exorcist in Fox UK's supernatural drama Outcast, and he admits the gory scenes can leave him looking a mess.
Philip Glenister may spend several months in America every year filming paranormal drama Outcast, but the 54-year-old certainly hasn't gone all Hollywood on us.
You won't find him attending any glitzy parties, or hanging out in the latest nightclubs. Instead, the Ashes to Ashes and Mad Dogs actor admits he likes his very British routine.
"We work so hard filming Outcast that the weekend is all about rest and recuperation," he revealed to What's on TV. "Saturdays are spent watching Premier League football on the TV and going to the very good Chinese restaurant around the corner. On Sundays, I'll maybe get a game of golf in. I took the sticks over when I went."
So far, he adds, he's even resisted the delights of exploring the Blue Ridge Mountains near where the show is filmed in South Carolina.
"If I had more time I would explore a bit more, but I haven't felt the urge to hire a convertible and set off on the freeway," said the car-fanatic star. "I'm happy with my decent rental Jeep."
Philip can be forgiven for enjoying his down-time on the FOX show. As Outcast fans will know, his character, exorcist Reverend John Anderson, has his work cut out battling an outbreak of demonic possessions that is causing carnage in the small town of Rome, West Virginia.
"Outcast is not an out-and-out horror show – it is cleverer than that," said Philip. "You get to know the characters and their small town environment which is quite sinister and disturbing. The horror element is secondary, though there is a lot of fake blood flying around. It's a very sticky substance. It's a pain in the arse to get it off your clothes."
As season two begins on Monday, the Reverend must face the consequences of failing to kill off the mysterious Sidney (Brent Spiner), who he believes to be the devil.
"He thought that he had taken out Sidney by burning his trailer down, but as we saw at the end of the season Sidney is very much alive," said Philip.
"The Reverend reaches rock bottom to the point where he is living out of his car. We realise that Sidney is not working alone, and this is so much bigger than anybody thought it would be."
Season two of Outcast starts on FOX on April 3.
As well as writing on sport and television for What to Watch, Richard McClure has contributed art and travel features for a wide variety of publications, including the Financial Times, The Guardian, and The Observer.
Thank you for signing up to Whattowatch. You will receive a verification email shortly.
There was a problem. Please refresh the page and try again.