Prey star Philip Glenister: 'I'm too old to be an action hero. I go to bed going 'Arrgh!'''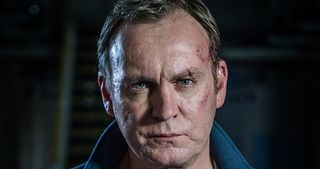 (Image credit: Ben Blackall)
With extreme chase scenes and edge-of-your-seat stunts, last year's Bafta-nominated Prey (ITV, Weds, December 9) had us puffing and panting all the way to the end credits.
TV Times (opens in new tab) is on set to talk to stars Philip Glenister (opens in new tab) and Rosie Cavaliero (opens in new tab) about the return of ITV's shigh-stakes, cat-and-mouse thriller...
Did you know what you were letting yourself in for when you signed up for series two?
Philip Glenister: "Lots of running, jumping off buildings, smashing things up and being chased by dogs... I'd seen the first series starring John [Simm, Philip's Life on Mars co-star] and thought it would be fun to do such a high-octane thriller. But I've got cuts, bruises, and I'm getting to an age now when it really takes its toll."
And this new run whizzes along at a head-spinning pace too...
Philip: "Rosie reprises her role as Detective Susan Reinhardt, but she's now on the hunt for fresh prey – recently widowed prison officer David Murdoch (Philip), who goes on the run while chaperoning inmate Jules Hope (Downton Abbey star MyAnna Buring) to a Manchester hospital.
"What Reinhardt doesn't know is that Murdoch gets a call demanding he break out his prisoner Jules or he'll never again see his only daughter, Lucy (ex Emmerdale star Sammy Winward), who's being held hostage."
Philip: "He's desperate to get his daughter back at all costs and has no choice but to go on the run with Jules. He's just a normal, everyday guy who's thrown into an extraordinary, abnormal situation.'"
Reinhardt is now a plain-old DI with a new boss to answer to and a rookie cop to babysit, but is she hot on their heels?
Rosie: "She's moved on since we last saw her, but nothing is ever simple with Reinhardt. She's also weighing up a possible job offer down south, so she's not sure whether to stay with her new man or change her life altogether."
There are lots of changes in this series, but is there one common theme that has carried through from series one?
Rosie: "So much running! I've been running up stairwells then been pushed back down again, and I ran up a hill in the Lake District about 30 times! Even so, I'd say Philip and MyAnna cover most of the physical activity this time."
Philip: "I blame Liam Neeson! He became an action hero in his 50s after doing those Taken films. I'm too old for it, though. I've been going to bed every night shouting, 'Argh!'"
You're good friends with John Simm, your predecessor. Did he give you any tips before filming?
Philip: "Make sure you use you your stunt double; put him to good use! But I had no choice when it came to driving stunts, considering I'm shackled to my co-star for most of the show. MyAnna is handcuffed to my right hand, so she has to do most of the driving. And she's a lunatic! I thought I was bad!
"We had to make sure our lovely props guy didn't lose the key to those cuffs, too."
You're heading off to the US to star in a new horror series, Outcast. Tell us about that.
Philip: "It's from the creator of The Walking Dead, which is expected to launch in the UK on Fox next year. I play a real maverick character called Reverend Anderson, but he's not your average bible-bashing, mad preacher. He likes to smoke, drink and gamble, and he's got an edge to him."
How about Prey 3?
Philip: "Oh, I doubt I'd be in a third series. Maybe Christopher Eccleston next, or David Morrissey…"
We've heard Keeley Hawes' name mentioned on set, mainly from series writer Chris Lunt and he should know...
Philip: "Is Chris just going through the entire cast of Life on Mars and Ashes to Ashes? He should get out more! It'll become a franchise. Then, in the final Prey, we all come together as superheroes!"
Thank you for signing up to Whattowatch. You will receive a verification email shortly.
There was a problem. Please refresh the page and try again.