'Pride and Prejudice made me famous - and Colin Firth'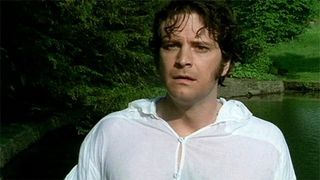 Screenwriter Andrew Davies has said that Pride And Prejudice was life-changing for him - and for Colin Firth.
Andrew said that his BBC TV adaptation of the Jane Austen classic had made him famous, as well as a certain member of his cast who played Mr Darcy.
Asked about his favourite work from a back catalogue that includes adaptations of Bleak House, Bridget Jones's Diary and both the original and new House Of Cards, he said: "Pride And Prejudice, of course, because that kind of changed my life really, made me famous.
"It was extraordinary. We thought we'd done a good show, we didn't know it would attract so much excitement. The way women were going frantic about Colin Firth was such a big surprise, but it was great - he deserved it."
On making a name for Colin, Andrew remembered: "The wet shirt scene, yes."
He explained why he thought period dramas were always so popular: "I think they're really great stories. Of course, a lot of people absolutely salivate over all the costumes.
"I like things that are set in the Regency period like War And Peace. It was a time when women's dress in particular was relatively simple and revealing, and girls look so great in those costumes so I like all that stuff."
Andrew is currently working on a BBC adaptation of War And Peace. It's due to be aired in 2015 and is reportedly the biggest budget programme ever made in Britain.
He explained: "There's a lot of action takes place in expensive palaces... the other thing of course is massive battles. We're going to have the entire army of some small place like Romania, perhaps kill someone, so it'll be expensive in that way."
Andrew, 77, recently won the Harvey Lee Award at the British Press Guild Awards to recognise his achievements and said: "I was slightly worried whether it might be one of those f***-off-and-die awards because I've been around a long time and some people are getting fed up with me still getting all these commissions. Anyway, I'm not stopping."
– Press Association
Get the latest updates, reviews and unmissable series to watch and more!
Thank you for signing up to Whattowatch. You will receive a verification email shortly.
There was a problem. Please refresh the page and try again.