Why Downton superfan Rachel Keller loves starring with Dan Stevens in Legion (VIDEO)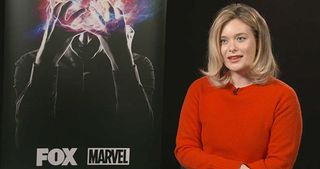 Rising American star and Downton Abbey addict Rachel Keller reveals all about working with Dan Stevens on FOX's thrilling superhero drama Legion
American actress Rachel Keller says she couldn't be happier working alongside former Downton Abbey star Dan Stevens in FOX's new superhero drama Legion. In fact, the 25-year-old Minnesota native admits she was something of a superfan of the ITV period drama.
"I was not only a fan of Downton Abbey, but I sort of studied it a little bit," said Rachel. "Dan's character, Matthew Crawley, was just charming to me, and I was very intrigued when [Legion executive producer] Noah Hawley told me that Dan might be in Legion. What a talented actor. Not only that, but a really sensitive guy – he doesn't need to prove anything."
Based on a Marvel Comics character from the X-Men universe, Legion tells the story of psychiatric patient David Haller, played by Stevens, who forms an intimate bond with fellow inmate Syd Barrett (Keller) as they explore whether David is mentally ill or a mutant who possesses astonishing superpowers.
Rachel tells What's On TV that the pair's characters have an instant attraction when they meet. "They are like kindred spirits – there is a recognition, a kind of connection," she said. "Syd is on the brink of asking big questions about herself and then she meets David and falls in love."
The action follows the pair as they escape the hospital and seek answers to their questions from unconventional therapist Melanie Bird (Jean Smart).
To perform Syd's all-action scenes in the series, Rachel learned Capoeira, a Brazilian martial art.
"It is a fluid movement, and really empowering training because a lot of the work is done holding yourself up on your hands," she explained. "I am still doing it because I love it. It connects very well with me."
Legion premieres on Fox UK on Thursday, February 9
Get the What to Watch Newsletter
The latest updates, reviews and unmissable series to watch and more!
As well as writing on sport and television for What to Watch, Richard McClure has contributed art and travel features for a wide variety of publications, including the Financial Times, The Guardian, and The Observer.