'My character in River City gets drunk a lot!' says Shobna Gulati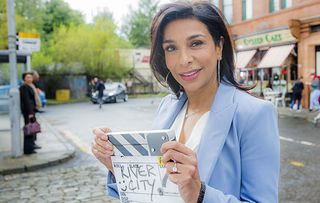 (Image credit: BBC Scotland)
Former Corrie star Shobna Gulati tells Soaplife about her return to soap in River City, and her new stage role…
Shobna Gulati played Dev Alahan's wife Sunita in Corrie, leaving the soap in 2013, when her character was killed off. Now she's returning to the world of soap…in Scotland's River City
Shobna Gulati reveals all to Soaplife
Soaplife: We hear you're starring in the Scottish soap, River City, Shobna. What's it about?
Shobna Gulati: "Yes, I am, and I'm on screen from November 7. For those who don't know, River City is an hour-long soap that goes out once a week on BBC Scotland in the Holby City slot. It's based in a fictional part of Glasgow called Shieldinch."
S: Who do you play in it?
SG: "I play a character called Farah, who's arrived in the area with her man, AJ [Sanjeev Kohli]. He's originally a local. They have quite a history together as they met at university 30 years ago, but they grew apart when AJ ended up with one of Farah's friends. Fast forward some three decades and Farah happened to meet AJ in India where they'd both gone to 'find themselves'. Then they came back to Scotland."
S: What's Farah like?
SG: "You'd think butter wouldn't melt in her mouth, but she's quite passive aggressive. She's inwardly bitter about the past and she gets drunk quite a lot!"
S: We seem to remember you had quite a few drunken scenes playing Sunita…
SG: "I did, didn't I?! I remember climbing over car bonnets and showing my legs. I had a drunk scene in Dinnerladies, too."
S: Are you allowed to have a few drinks to get you in the mood to play drunk?
SG: "No! There simply isn't time. You do a quick run through, then a take for the crew, then you're on. After that, you're onto the next scene which might be something really serious. You can hardly be under the influence for that."
S: You're also appearing in the theatre in London from December…
SG: "I am indeed. I'm in the play, Daisy Pulls It Off, at the Park Theatre in London. It's a parody of one of those 'spiffing' girls' school stories set in the 1920s. It requires a leap of faith in that those of us appearing as school girls clearly aren't!"
S: What's your role in the stage play?
SG: "I play Sybil and she's the horrid girl who does all she can to stop Daisy 'pulling it off'! She's a bitch, although I don't like using that word. I love playing a bad girl, especially if she seems nice on the surface. It's far more fun than playing a good girl."
S: Do you prefer theatre or telly?
SG: "I like both because they're different. In a production like Daisy Pulls It Off, it's clearly set in an imaginary world and you're asking the audience to come on that journey with you. In TV, and specifically in soap, you're trying to portray realism, although obviously it's more far-fetched than real life and it moves much faster, too."
River City, BBC1 Scotland
Get the What to Watch Newsletter
The latest updates, reviews and unmissable series to watch and more!