Sanjeev Bhaskar on Unforgotten finale: 'The killer could be anyone!'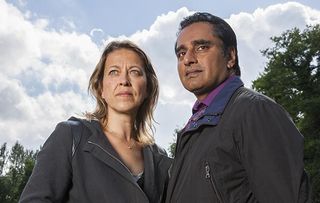 (Image credit: ITV)
On Sunday night, viewers will finally learn Who Killed Hayley Reid? as crime drama Unforgotten reaches its dramatic conclusion. Sanjeev Bhaskar teases what's to come - and reveals how wife Meera Syal has tried to guess TV's big 'whodunit'…
Sanjeev Bhaskar on the gripping finale to Unforgotten...
After five weeks of trying to untangle a web of secrets and lies surrounding the historic murder of teenager Hayley Reid, viewers will finally discover 'whodunit' this week, as Unforgotten reaches its dramatic conclusion.
The investigation into the murder of Hayley, who vanished on New Year's Eve 1999 soon led DCI Cassie Stuart (Nicola Walker) and DI Sunil 'Sunil' Khan (Sanjeev Bhaskar) to four men who'd been friends since school: game show host James Hollis (Pirates of the Caribbean's Kevin McNally), Dr Tim Finch (The Crown's Alex Jennings), Chris Lowe (Vicar of Dibley's James Fleet) and Pete Carr (Neil Morrissey) – who was fatally stabbed by a vigilante mid-way through this series, after details of the case appeared on social media.
Of course, this series of Unforgotten has also given us a (possibly evil?) twin sister, some bitter ex-wives and a troubled, cross-dressing son – any one of them could know what really happened to Hayley! Before Hayley's killer is revealed, actor Sanjeev, 54, looks back on the story so far, and writer Chris Lang shines a light on all potential suspects…
How has this series compared to the previous two? And what's it been like working opposite the four actors playing the main 'suspects'?
Sanjeev Bhaskar: "It's been a joyous experience. When Nicola and I have been interviewing these 'people of interest' it's like having a front row seat at the theatre. You're two-feet away from people doing fantastic, extraordinary acting, which is so layered. Nicola and I would film a scene with either Alex or Kevin or James or Neil and say, in front of them: 'He's good isn't he?' It's been a real privilege."
Have you been following fan theories online about who may have killed Hayley?
SB: "Yes, I have. Following all of the various thoughts, guesses and opinions on social media, on Twitter particularly, has been really interesting. People seem genuinely torn between various characters – and that's as it should be."
You obviously know who the killer is now – but if you were a viewer, who would your money be on?
SB: "At this stage, it really could be anyone! We've been looking closely at the four men but there are some real grey areas as well surrounding some of their ex-wives and James's son Eliot. It could be that a person or some people killed Hayley and other people covered it up. There's also that element of other people being guilty of a greater crime, rather than just a specific crime. As you can tell, I'm being utterly non-committal!"
Does your wife, The Split actress Meera Syal, have her own theories on who the killer is?
SB: "She has… and I have to remain absolutely poker-faced as she lists all the reasons why each person could have killed Hayley. She thinks homeless Chris may have done it at a time in his life when he was more ill; she thinks game show host James has got the most to lose, so it must be him, and she thinks doctor Tim looks a little bit too innocent, so maybe he's involved in some way. Meera goes through every potential suspect and I just sit there, like a blank wall, staring back at her and just nodding. I'm not giving anything away!"
How much do you enjoy working with Nicola as Cassie?
SB: "There's nothing I don't enjoy; she's a brilliant actress and one of the most instinctive people I've ever worked with. I have a shorthand with Nicola, which makes it really easy. After filming the very first scene we did on the first series back in 2015, I felt like I'd known Nicola for years – not for just an hour! We've built on that and now she's a really good friend."
Sanjeev has become good friends with his Unforgotten co-star Nicola Walker, who plays Cassie...
We've seen more of Sunny's personal life this series, while Cassie has been balancing the struggles of the job with problems at home. Could this mean they both turn their back on policing?
SB: "It could… or it could not. Both those options are a possibility. They're not superheroes or super cops – they work very hard and I really don't know how our police keep a balanced life while having to deal with the grim, dark end of reality. If Cassie and Sunny give up policing, maybe they could open a shop together!? Whatever happens, I really like these characters, I love working with Nicola and I love Chris's writing, so I'd do another series of Unforgotten in a heartbeat."
THE SUSPECTS
Unforgotten writer Chris Lang, talks us through the names in the frame…
Chris Lowe (James Fleet)
"Chris's life completely unravelled just after that millennium evening and it must have been something catastrophic that caused that," reveals Chris. "Why was he homeless for the next five or six years? Why does he live in a campervan? Is the way he is now the result of guilt?"
Dr Tim Finch (Alex Jennings)
"We've heard several people's word against his, so it's a case of who do you believe," says Chris. "You've got the allegation of professional misconduct – was he really abusive? Ex-wife Derran [Siobhan Redmond] is clearly mentally unstable – but are there any nuggets of truth in what she's saying?"
Pete Carr (Neil Morrissey)
"Although Pete's now deceased, it is an historic case, so he still may well turn out to be the guilty party," says Chris. "Before his death, Pete admitted to doing some dreadful things like stealing from the disabled – but do they make him a killer? It might be that we never get the answers now."
James Hollis (Kevin McNally)
"We've learned there's a secret that James and his son Eliot (Tom Rhys Harries) have been keeping all these years but, of course, there could be more to it," says Chris. "Could Eliot be the killer? Is James just a father wanting to protect his son? Or were they in it together?"
Derran Finch and Mel Hollis (Siobhan Redmond, pictured, and Sara Stewart)
"Lots of people online are theorising about the ex-wives," reveals Chris. "There's definitely a huge amount of dysfunction both from Derran and Mel, and clearly still a lot resentment and anger there. Could they be guilty?"
Jessica Reid (Bronagh Waugh)
"I chose the twins idea because Jessica is a visual representation of what Hayley would have looked like now, which is a brutal reminder for her mum and dad every single day of their lives of what they've lost," says Chris. "This is a really simple story of tragic loss – or is it?"
Adrian Mullery (Gerald Kyd)
"Hayley's boyfriend at the time was quizzed but never charged and this story has explored how a man's life was ruined by a single accusation and how he's had to deal with the media's gaze turning on him," says Chris. "Adrian's a very angry man harbouring a lot of bitterness over how he was treated."
DCI Bentley (Alastair MacKenzie)
"The officer on the original case, I know lots of people think there's something odd about him," says Chris. "Maybe Alastair's just too handsome! Bentley has been wooing Cassie – but was he involved in Hayley's murder? Did he screw up the original investigation deliberately? All will be revealed…"
The nail-biting finale of Unforgotten can be seen on Sunday August 19 at 9pm on ITV.
Get the latest updates, reviews and unmissable series to watch and more!
Thank you for signing up to Whattowatch. You will receive a verification email shortly.
There was a problem. Please refresh the page and try again.