Scotty T: 'I wasn't born to be famous!' (VIDEO)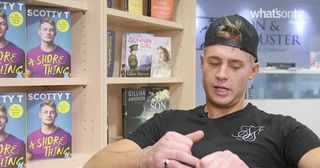 The Geordie Shore and Celebrity Big Brother star talks about his autobiography, which explores his life before fame...
Scotty T has revealed how his stint on Celebrity Big Brother inspired his new autobiography.
Famous for boozing and 'pulling birds' on MTV's Geordie Shore, Scotty showed viewers a very different side to him when he appeared on the Channel 5 reality show earlier this year… and went onto win.
Aware that public perception of him had changed, Scotty, 28, wanted to write the book, Scotty T: A Shore Thing, to give people an insight into how he became the man he is today.
"In the book, I talk about all the wild times when I was a kid, growing up with ADHD, dealing with stuff happening to my family," he told What's on TV. "Also, it's mostly about being a little terror and being a clever boy at the same time, so going through school, going to university and how I managed to end up on Geordie Shore."
Scotty T after he won Celebrity Big Brother back in February
And it seems the book is very honest. "I speak the truth," he said. "I'm not gonna lie about things, I'm not gonna beat around the bush. I put enough in – it's like the funny side and the serious side and it's just all about my life. It took a long time but it's been worth it."
When asked if he thought he was born to be famous, Scotty said: "Nah, I've never been like that. I've just done me thing and it just seems to have blown up. I still think it's weird when people in the street go: 'Is that Scotty T?' And I go: 'How do you even recognise us?' Sometimes I'll go: 'No, no' and try and hide if I'm looking rough!"
As well as the new series of Geordie Shore and his new book, Scotty's got so many other projects on the go - including presenting for MTV, product launches and even panto - that he admitted he often doesn't know whether he's coming or going.
"Me schedule's through the roof," he said. "That's why I've got loadsa people trying to keep us in line, cause I don't know if I'm meant to be in one place or the other!"
Scotty T: A Shore Thing, published by Simon & Schuster, is out now, and the new series of Geordie Shore starts on Tuesday October 25 at 10pm on MTV.
Words by Victoria Wilson.
Get the latest updates, reviews and unmissable series to watch and more!
Thank you for signing up to Whattowatch. You will receive a verification email shortly.
There was a problem. Please refresh the page and try again.