Sharon Rooney: 'People said my Scottish accent was terrible. But I AM Scottish!'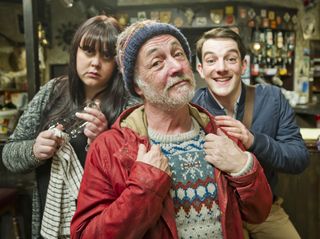 (Image credit: BBC/Andy Peebles)
My Mad Fat Diary star Sharon Rooney tells us about her new BBC1 sitcom pilot, Miller's Mountain…
Where is Miller's Mountain set and what's it about?
"It's set in an unknown Scottish location, around central character Jimmy Miller (Jimmy Chisholm) who runs a mountain rescue team, Busted Femur Mountain Rescue. He loves the mountain and hates the rival Inverkelly mountain rescue team, purely on the basis they have a helicopter and he thinks you don't need a helicopter to rescue people off mountains. He's old school! When we meet Jimmy, he's got shiny new city boy Conor as a volunteer for the rescue team, who doesn't know what he's let himself in for. A call comes that someone has fallen off the mountain and Jimmy and Connor and calamity follows."
So who do you play?
"My character Jules runs the pub, The Busted Femur, which is the only place in the area they can meet, chat and have a drink. But she doesn't enjoy it at all. She wants to be back in the city. She's really in awe of Conor, who she sees as a handsome, modern city boy. She definitely fancies him – she doesn't have any choice, there is no other eye candy in Miller's Mountain! Jules isn't the typical funny girl, I don't think she ever intends to be funny but she's got really great one-liners. She's very determined, straight to the point, and I think everything she says, she means - and she says horrible things to Jimmy!"
How was it working at home in Scotland?
"I love it. No one believes I'm Scottish, so I'm on a one-woman mission to change that. After I played Scottish character Laura in Sherlock, people said 'Sharon's Scottish accent is terrible'. But it's my own voice! I'm not doing an accent – I'm just talking!"
Would you be interested in doing a series of Miller's Mountain?
"I'd jump at it. I love the writing, the cast, I love that we get to film in front of a live studio audience, and this is one of those jobs where we laughed from start to finish."
Will you be doing another series of My Mad Fat Diary?
"I don't know, I'm still waiting to find out. I'll probably find out last on Twitter! I've done a couple of other things and there are a few projects in the mid-stage – I'm not allowed to say, which is so frustrating. I can't tell my mum anything, because she'll tell someone. Especially with Sherlock, I tried to keep that as long as I could from her. You do feel like you're a bit of a spy, going on a secret mission to film something top secret."
Comedy Playhouse: Miller's Mountain screens on Tuesday, May 6 at 10.40pm on BBC1 (10.35pm in Scotland)
Get the What to Watch Newsletter
The latest updates, reviews and unmissable series to watch and more!