Sir David Attenborough reveals all about his major new BBC1 show Dynasties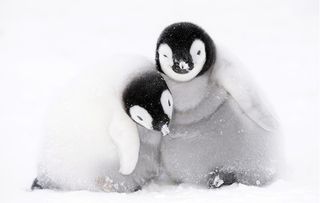 (Image credit: BBC NHU/Stefan Christmann)
A pair of six-week-old penguin chicks huddle together for warmth in Antarctica - just some of the amazing animals who feature in Dynasties
BBC1's lavish five-part series Dynasties, which has been four years in the making, sees legendary wildlife presenter Sir David Attenborough focus on the challenges faced by five of the world's best-known but endangered species – chimpanzees, penguins, lions, painted wolves and tigers.
Sir David Attenborough gives TV Times the lowdown on his new series Dynasties…
TV Times: This series must have been a huge undertaking...
David Attenborough: "Yes, enormous. The producers said to me, 'We're going to find groups of animals where scientists think there could be some sort of eruption or social unrest, and film them for the next 18 months to two years to catch when that happens. It could be a triumph or it could be a tragedy.' I said, 'You're bonkers!' Because there was no guarantee that anything was going to happen."
TVT: Why did you pick these particular animals?
DA: "They are charismatic animals. You can't beat a penguin or a chimp. They are full of activity. Chimps are fascinating because we can so easily understand what they're doing - or think we do. But it was my misfortune that the old, grizzled chimpanzee, who's been there forever and is just about holding on, is called David!"
TVT: Did you go on location yourself?
DA: "I mainly produced the words. But I did go on location with the painted wolves. It was on the banks of the Zambezi and they chose a place for me to introduce the whole thing alongside a group of hippos. Every time a dominant male hippo wants to tell people he's the boss he makes this awful noise that goes on for about five minutes. I don't know how many times we tried to do that link!"
TVT: Blue Planet II highlighted the dangers of plastic in our oceans; do you hope that Dynasties can have a similar impact in terms of conservation?
DA: "We go from the South Pole to West Africa and the common concern is allowing animals space. There are some telling long shots that show the encroachment of the human population. So if the effect is that people care for these animals and give them living space, we're pleased."
TVT: You've had such a long career but do you find you still learn things from making these programmes?
DA: "You still learn things but the overwhelming thing is the quality of the insight and the intimacy and skill of the camera operators. Fifty years ago there wasn't such a thing as a career as a wildlife cameraman. Now there are a lot of young people who see this stuff on television and say, 'This is what I want to do'. The consequence is that the competition to do it is very great so the quality is incredible."
Dynasties starts on BBC1 at 8.30pm this Sunday.
Get the latest updates, reviews and unmissable series to watch and more!
Thank you for signing up to Whattowatch. You will receive a verification email shortly.
There was a problem. Please refresh the page and try again.