The Crown star Olivia Colman felt 'WEIRD' having the Queen's hair!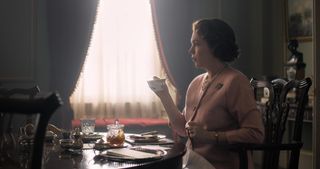 (Image credit: Netflix)
Olivia Colman tells us what it's like to play the most famous woman in the world...
With her hair coiffured into an unmistakably royal style and two rows of pearls hanging from her neck, Olivia Colman looks effortlessly regal as she ascends the throne as Queen Elizabeth II in The Crown.
The Oscar-winning actor leads a brand new cast as this lavish royal saga taking us behind the scenes at Buckingham Palace returns for a third outing and it promises to be quite a ride.
Opening in 1964, this year's 10-part series picks up the story during a momentous few months for the monarch. Harold Wilson's election as Prime Minister is closely followed by the death of her old friend Sir Winston Churchill, with more royal intrigue on the way as we follow the Windsors through to The Queen's Silver Jubilee in 1977.
https://youtu.be/vLXYfgpqb8A
We caught up with The Crown star Olivia Colman to find out what it's like to be the new leading lady of a show that's already won a host of awards and is rumoured to be essential viewing for the real royal family…
How did it feel when you got the part in The Crown?
Olivia Colman: "I was delighted and said yes straight away! I think I was supposed to be cooler and tell them I'd think about it, but I'll know for next time."
WHAT IS ON TONIGHT? Check out our NEW and improved TV Guide
How do you go about preparing for a role like this?
OC: "We have an amazing voice department who really helped me get into the accent and I learned to sit down elegantly, as I was told my technique wasn't very regal. I also watched some footage of her majesty, but then you realise Claire Foy has already played her wonderfully, so who should I be copying, the Queen or Claire? In the end you have to use your instinct and try to put your own mark on it."
Have you had a chance to speak to Claire?
OC: "Claire said: 'You'll love it. Everyone is so lovely' and almost all of the crew has come back which is a really amazing sign that clearly it was a really happy job."
Where do we find her majesty at the start of the series?
OC: "It's 1964 so she's had all four children and she and Philip (Tobias Menzies) are very settled. They've had a turbulent relationship up to this point, but now their challenges come from elsewhere rather than at home. Yet there's a sense of change in the air and that's captured in the first episode with a fascinating spy story. It was the height of the Cold War and fear of the Russians was everywhere, which makes it quite exciting!"
What does the Queen make of Harold Wilson?
OC: "She was quite worried about what a Labour government would mean for the royal family, but in the end he and the Queen got on famously well and had a lovely time together. He's invited for a slightly less official trips to Balmoral and there are peals of laughter coming from the room where the sitting room, with drinks trolleys being brought in. The Prime Ministers that came before were like fathers and uncles to Elizabeth, but Harold Wilson (Jason Watkins) was part of a new generation. He talked to her like an equal and I think for her that was brilliant."
Do we get to see much of Princess Margaret (Helena Bonham Carter) in this year's series of The Crown?
OC: "A lot happens to Margaret at this time, as we all know, so that makes for a really interesting relationship between the sisters. They're desperately loyal to each other and have had a unique connection since childhood, as they had every school lesson together and slept in the same room of the nursery. They're there for each other, but it's very difficult because one has everything and one doesn't."
MORE: Episode guide to the new series
Have you enjoyed the costumes?
OC: "I got quite giggly at first because there's only one woman with that hairdo, so it was quite weird. I was like 'I've got the Queen's hair!' It's a job, it's a role and it's a costume and a script to learn and an hour in make up as all jobs are. I'm really trying not to think about it as the big thing otherwise I'm worried I'll go a bit mad."
What do you think it is about the royal family that intrigues us so much?
OC: "We've all seen them and we've seen the buildings, but it's endlessly fascinating that none of us could possibly know what it's like inside. None of us will ever be royal so people of all ages - and The Queen has been there for generations now - have grown up with her as a constant, but we don't know what it's like behind closed doors. So this is endlessly entertaining. It always will be because as long as there's a Queen or a King and we're not that person, we're always going to want to know what that's like."
Has playing the Queen changed your opinion of her?
OC: "I have to say I didn't think I was a royalist, but the more I learn about her I think she's amazing. Although I wouldn't want her job for all the money in the world! There are very few humans who make a commitment and do it to the best of their ability for a lifetime. I think we're going to be all at sea when she's no longer with us."
What would you say if you met her?
OC: "I think you have to say 'Your Majesty' and then 'Ma'am' thereafter. I don't know. I'd be totally tongue-tied. I'd say 'Well done - I'm pleased I don't have to do it.'"
Do you think she watches the show?
OC: "I like to think she sits there with a cup of tea watching. She probably finds it quite funny and thinks we have no idea what it's really like. I would imagine as we're still in a historical place it's probably easier for them to watch, but as it crawls closer to the present day I'm not sure. A lot of the costumes are very well researched so she probably thinks 'I remember that, I wonder what happened to that hat'. There are some great hats on this although Margaret gets the best ones!"
Do you have a royal expert telling you how the Queen would behave in private?
OC: "We have Major David, who's a wonderful man. I can go 'What would I do, would I pour the tea?' and he says 'Yes her majesty does like to pour the tea for her family', so we are learning bits like that. Although he allows us some artistic licence too. He might go, 'Oh this would never happen' but he's really lovely and he gets it."
Olivia Colman stars in series three of The Crown, which will be available on Netflix from Sunday 17th November
Feature writer for TV Times, What's On TV, TV & Satellite Week and whattowatch.com
Sean has been writing about all things telly for over 10 years and in that time he's been lucky enough to interview stars like Ian McKellen, Tom Hardy and Kate Winslet. His favourite shows are The Great British Bake-Off, People Just Do Nothing and Succession and in his spare time he enjoys drinking tea, doing crosswords and watching football.
Get the latest updates, reviews and unmissable series to watch and more!
Thank you for signing up to Whattowatch. You will receive a verification email shortly.
There was a problem. Please refresh the page and try again.