The Crown Season 3 episode guide, casting and release date on Netflix
All about The Crown Season 3.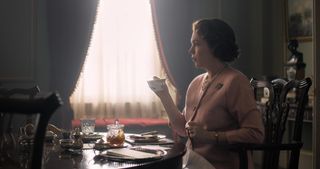 (Image credit: Netflix)
Here's the lowdown on all ten episodes of The Crown season three on Netflix, starring Olivia Colman and Tobias Menzies…
Oscar-winning star Olivia Colman takes over the role of Queen Elizabeth II from Claire Foy in this eagerly anticipated third season of The Crown on Netflix, which covers 1964 to 1977.
Tobias Menzies plays Prince Phillip (previously played by ex Time Lord Matt Smith), with Helena Bonham Carter cast as the ever more drunken Princess Margaret and The Durrells star Josh O'Connor as Prince Charles, who starts a relationship with the young Camilla (Killing Eve season two writer Emerald Fennell).
Jason Watkins plays the new Labour Prime Minister Harold Wilson, as this year's 10 part series takes us all the way to Her Majesty's Silver Jubilee, covering events along the way such as the Aberfan disaster in 1966 and Charles' investiture as the Prince of Wales in 1969.
Here's our exclusive complete episode guide to season three of The Crown...
The Crown season three episode 1: Olding
Her Majesty welcomes Harold Wilson as her first Labour Prime Minister just as there are whispers from some in the establishment that the new PM may be a Soviet spy. Yet the Queen gets a shock when it's revealed a KGB agent is actually working in Buckingham Palace. She also leads the nation in mourning at the funeral of her first Prime Minister Winston Churchill…
Episode 2: Margaretology
Sisterly royal rivalry comes to the fore. While Princess Margaret and husband Lord Snowden (Ben Miles) are in the US they get an unexpected invitation to dine with US President Lyndon Johnson, where things take a drunkenly bawdy turn…Will her antics cause embarrassment for The Queen and Prime Minister back home in Britain?
WHAT IS ON TONIGHT? Check out our NEW and improved TV Guide
Episode 3: Aberfan
The focus is on the infamous 1966 disaster in the coal mining village of Aberfan, which killed 116 children and 28 adults when a coal heap landslide buried a school. The Queen is initially reluctant to visit the disaster site and comfort the grieving community as she doesn't feel it is her role, but it leads to some deep royal soul-searching. A very emotional extra-long episode that is like a disaster movie in some parts.
Episode 4: Bubbikins
It's 1967 and there's a military coup in Greece which puts Prince Phillip's elderly mother at risk, so the Queen invites her to stay at Buckingham Palace, much to her husband's annoyance. Will mother and son patch up their past differences?
Episode 5: Coup
The devaluation crisis hits the Labour government leading to many business leaders and military top brass hoping to overthrow Harold Wilson. They look to Lord Mountbatten (Charles Dance) to lead the coup, which the Queen learns of during a trip to America.
Episode 6: Tywsog Cymru
On becoming 21, Prince Charles (Josh O'Connor) is to become the Prince of Wales at his investiture at a grand ceremony at Caernarfon Castle filmed live to the nation. He's sent to Aberystwyth to learn Welsh from an ardent Welsh nationalist college lecturer so he can give his Caernafon speech in the native language. Will this unlikely pair hit it off?
Episode 7: Moondust
The royals, just like the nation, are gripped by the Moon landings in July 1969, especially Prince Philip who's impressed by the American astronauts' spirit of adventure. It leaves him questioning his role in life. Then Philip's excitement goes into overdrive when Neil Armstrong, Buzz Aldrin and Michael Collins are invited to Buckingham Palace…
Episode 8: Dangling Man
Charles is feeling conflicted in his role as heir to the throne and seeks advice from his great uncle former and former king, Edward VIII (Derek Jacobi). He secretly visits Edward and Wallis Simpson (Geraldine Chaplin) at their chateau in France. But it's soon apparent that Edward is gravely ill. Will the Queen make peace with her controversial uncle before he passes away?
Episode 9 Imbroglio
Edward Heath (Michael Maloney) becomes Prime Minister and the Queen finds him very stuffy, formal and uncommunicative. She then becomes worried about chaos in the county during the miners' strike. Meanwhile romantic trouble hits Charles when his family confronts him over his relationship with Camilla (Emerald Fennell). To complicate matters further, Princess Ann (Erin Doherty) has become romantically involved with her brother's polo chum Andrew Parker-Bowles (Andrew Buchan) who Camilla also seems interested in...
Episode 10 Cri de Coeur
Princess Margaret's marriage is teetering on the brink as her husband Lord Snowden (Ben Daniels) continues to have an affair. Her eye is soon turned however, by a young gardening enthusiast Roddy Llewellyn (Harry Treadaway). Meanwhile, Labour gets back into power but Harold Wilson has secret news for Her Majesty. The series ends in 1977 with the nation celebrating The Queen's Silver Jubilee…
* The Crown series 3 arrives on Netflix on Sunday November 17
Get the latest updates, reviews and unmissable series to watch and more!
Thank you for signing up to Whattowatch. You will receive a verification email shortly.
There was a problem. Please refresh the page and try again.