TV documentary reveals the life of Hercules, the 50-stone 'human' bear that bit Richard Madeley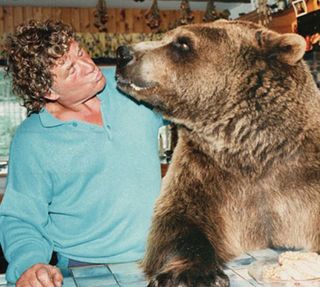 Hercules (opens in new tab) was a small, brown grizzly bear cub, bought from a Scottish zoo in 1974 for just £50 as a wrestling companion for showman Andy Robin and surrogate son to his show-jumping wife Maggie.
"Where most people have children, or a dog, we had a big bear," Maggie says.
The couple brought Hercules up as their only child, raising him in the heart of their Perthshire home until his death from old age in 2001.
"People couldn't believe we lived with him, with no muzzles or chains or wire fence," Andy recalls in the Channel 5 film Hercules the Human Bear.
Andy devised a hardcore regime with Hercules, including sparring sessions and cross-country runs, and they trained every day.
During one training session Hercules deliberately tripped Andy and pinned him to the ground.
"He stood back and looked at me as if to say, 'I'm your friend, I'm not going to bite you'," Andy told the Daily Express.
But Hercules did bite Richard Madeley (opens in new tab)'s finger when the TV presenter poked it at him once too often during an appearance on This Morning.
Hercules became a phenomenon.
The wrestling performances with Andy in the late 1970s and early 1980s were watched by millions and the unique relationship captured the hearts of a nation.
Hercules also starred in the Bond movie Octopussy (opens in new tab) with Roger Moore.
"Roger was utterly charming," remembers Maggie. "But he was clearly more at ease with women than he was with bears."
And Hercules had a big career in adverts and on TV chat shows.
Andy and Maggie explain just how they managed to live under the same roof as a grizzly bear, regarded as the world's most dangerous land mammal.
The couple had no formal animal training, yet allowed 10ft, 50-stone Hercules to share every part of their lives.
The documentary shows Hercules being called for dinner, opening the door by himself and sitting down to eat.
"He didn't eat wild food, he had refined taste buds," says Maggie.
Hercules's death devastated the couple and only now have Andy and Maggie decided to tell his story.
Hercules the Human Bear, can be seen on Channel 5, Thursday, April 3
Get the latest updates, reviews and unmissable series to watch and more!
Thank you for signing up to Whattowatch. You will receive a verification email shortly.
There was a problem. Please refresh the page and try again.