The voice of Peppa Pig reveals she went to Peppa Pig World and no one knew who she was!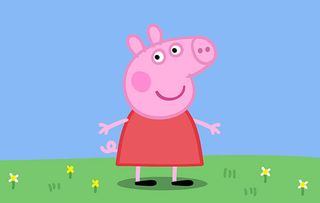 (Image credit: Press Association Images)
Harley Bird was just five when she started voicing Peppa
The voice of Peppa Pig, Harley Bird, has revealed she doesn't get recognised – even when she went to Peppa Pig World!
Under fives everywhere are hooked on Peppa Pig, but despite her global fame – second only in this country probably to Mr Tumble! - with small children, Harley can go anywhere she likes undetected – including Peppa Pig World in Hampshire.
Speaking recently on This Morning, Harley, 16, revealed: "I've done Peppa for 11 years now, I understand the character, how she speaks and how she would do things.
"I don't get recognised. I went the other weekend [to Peppa Pig World], I was on the dinosaur ride with my brother and everyone was giving me strange looks. Me and my brother were snorting and I was doing some [of the] lines."
Presenter and mum of three Holly Willoughby declared: "Any parent has you on in their house, probably every day! I'm going to get some serious mum points when I go home."
Harley, who was born in Rochdale, actually won the role of Peppa Pig - who a fan recently claimed has four nostrils! - when she was just five. She once told the BBC about her audition, saying: "I can't really remember much because I was tiny, and I went to an audition for it.
"And they listened to my voice and I sounded like a pig, a four-year-old pig.
"I couldn't read at all and it's a little bit difficult when you've got a five-year-old who's meant to be reading scripts."
This Morning is shown weekdays, 10.30am on ITV.
Get the latest updates, reviews and unmissable series to watch and more!
Thank you for signing up to Whattowatch. You will receive a verification email shortly.
There was a problem. Please refresh the page and try again.