War & Peace star Aisling Loftus: 'I thought my costumes were going to be super pretty!' (VIDEO)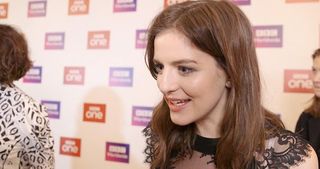 War and Peace star Aisling Loftus says her character Sonya is effectively wearing the early 19th-Century equivalent of an old T-shirt and joggers!
The former Mr Selfridge star joked that she was disppointed by the shabby wardrobe her lovelorn character wears.
Aisling told What's on TV: "I thought all my costumes were going to be super pretty. I was quite excited. Instead, they all look like they've gone through the wash one too many times. She effectively wears joggers, do you know what I mean? You know what you wear around the house, an old T-shirt and joggers, she wears the equivalent of that 1810! That's her vibe."
Aisling said Sonya had, sadly, lost her heart to Nikolai Rostov and had low expectations of life. "All she's looking to be is to be loved by the Rostovs, particularly Nikolai. She's willing to be the wallflower, to play second fiddle all her life, as long as she's rewarded with that. Unfortunately, she's not!"
Aisling admitted she thought her chances of originally being cast in the BBC1 historical drama were slim.
"When I first got the audition for it, I was like, this is not going to happen! So, thank you to Tom Harper the director, thank you for the opportunity! It was almost like, I really don't want to waste your time!"
Watch the interview with Aisling Loftus, above."]
Get the latest updates, reviews and unmissable series to watch and more!
Thank you for signing up to Whattowatch. You will receive a verification email shortly.
There was a problem. Please refresh the page and try again.