The sixth and final season of Better Call Saul kicks off with a slow but no less exciting premiere that sets up characters and storylines for success the rest of the season.
Pros
+

Terrific performances from Michael Mando and Bob Odenkirk

+

How Saul's trauma affects his relationship with Kim

+

Kim being awesome as always

+

Hilarious Hamlin schemes kicking off

+

Tense moments for Nacho

+

Tough, character-driven choices that challenge our heroes
Cons
-

Pacing is a bit slower

-

Lower on narrative progression
NOTE: This recap contains details about what happens in the Better Call Saul season 6 premiere, "Wine and Roses."
It's been two years since everyone's favorite lawyer/con artist graced TV screens. But the anticipation and affection for Jimmy McGill, Kim Wexler and the whole gang has not waned one bit. With a show as good as Better Call Saul, storylines and characters stay with you regardless of how long the hiatus is. Despite a pandemic and a near-fatal heart attack for Bob Odenkirk (thank goodness he's ok!), more than anything, the first episode of the sixth and final season reinforces the fact that the crew behind the Emmy-nominated series has not missed a single beat.
The season kicks off with a fan's treasure trove of Easter eggs as we flash forward, not to good old Gene from Cinnabon, but to the direct aftermath of Walter White being exposed as Heisenberg in the final season of Breaking Bad. Saul Goodman's gaudy home, complete with solid gold toilet, has been seized, along with all his possessions, down to the boxes of Viagra. It's the type of sequence this series and its predecessor were absolutely known for, being funny, shocking and tragic by saying so much with so little.
Admittedly, it's a shame there haven't been many Gene sequences since the first episode of season 5. That said, given this is the final season, the hope is there will no doubt be much more to come towards the end of it.
The action then picks up in Mexico, where Nacho (Michael Mando), having just betrayed Lalo (Tony Dalton), is on the run for his life. Though he assumes Lalo is dead (at least that's what he's been told), he is still cautiously watching his back as he makes his way to a hotel Gus Fring (Giancarlo Esposito) has set up for him. Rightfully so given the Salamanca cousins are also hunting him down.
Unfortunately for Nacho (and Gus), Lalo is not an easy mark to scratch off. Though wounded, he's already on the hunt has his theories on who's behind the attack. Tony Dalton has consistently turned in terrific performances in every episode he's in, turning on the charm and the menace at the drop of a hat. That said, this season will be Mando's time to shine.
Also: Better Call Saul we hope don't die in season 6
The narrative then shifts over to Jimmy and Kim (Rhea Seehorn) trying to continue the status quo after their terrifying encounter with Lalo last season. Clearly Jimmy is still traumatized by his desert adventure with Mike and the subsequent visit from Lalo. He's even off his game in court, mistakenly referring to Lalo, not by the pseudonym he was defending him under last season, to the prosecutor. But more than that, he seems to be shaken up by what this is doing to Kim.
The last we saw Kim, she was full on finger gunning her way to plans for destroying Howard Hamlin (Patrick Fabian). Jimmy's hesitant to follow through with the a potential scheme for Howard, while Kim is eager to move forward. She even encourages him to lean into the Saul persona more.
It's interesting to see this side of Jimmy after five seasons of double downing on the Saul persona. His slight pullback signifies a lot, starting with firstly, how much he cares about Kim and how much he does not want to drag her down with him. Second, it emphasizes something we've known about him all along and the most significant difference between this show and Breaking Bad. Jimmy is actually a good person at his core.
Jimmy's a character that was never looking to break bad, but has had no alternative in the matter. He just does whatever he can to survive. It also emphasizes something we've known about Kim too; she's stronger and smarter than he is. Kim Wexler is a badass and a more brilliant partner for Jimmy in life and in crime. Kim can roll with the punches, no matter how hard they hit, and rather than him dragging her down, she's the one keeping them 10 steps ahead.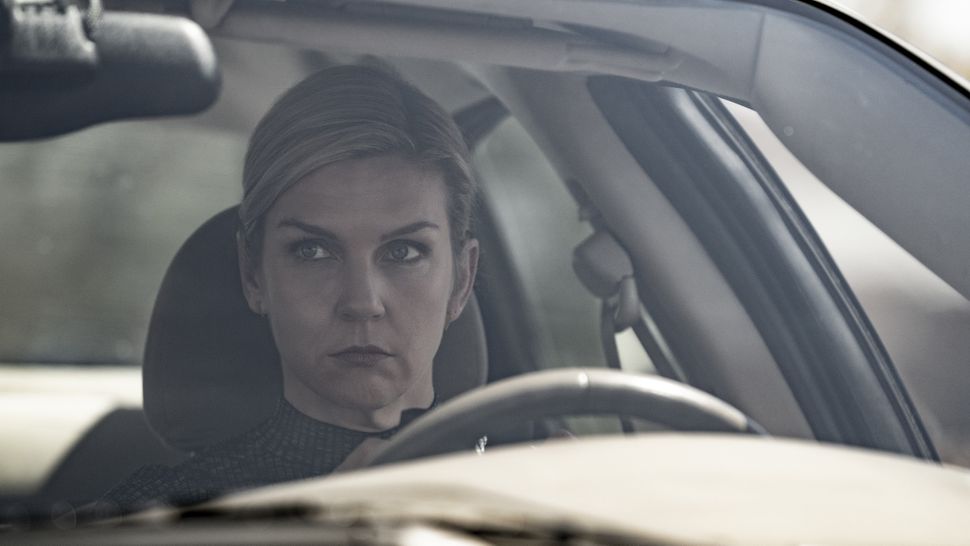 The climax of the episode (at least on the Kim/Jimmy side of things) results in a hilarious sequence with Howard at a country club. Odenkirk is out in full force during this sequence; energetic, funny, hammy like a fox. But as this is only the first phase of their plan, it's going to be very interesting to see where things go from here.
Back in Mexico, Nacho arrives at the hotel and receives instructions to wait there for someone to come pick him up and bail him out of his situation. However, once Gus and Mike (Jonathan Banks) come back into the picture, we know Gustavo has zero genuine good intentions for Nacho. Gus is as as crafty as ever, setting up Nacho as a sacrificial lamb to keep the peace between him and the Salamancas. Mike is not cool with that. However, knowing when he's been beaten, Mike isn't taking Nacho's calls.
Between Jesse and Nacho it's incredibly interesting to see how much Mike has a soft spot for surrogate sons of a sort. We know how the loss of his own son, Matt, informs that. It's heartbreaking to watch as he's unable to help them, no matter what the situations are.
The episode ends with Lalo talking to Hector (Mark Margolis) about his suspicions regarding the hit against his life. Just as he's about to head north to attack Gus, he realizes there may be evidence to support his claims elsewhere. Where Lalo goes from here is a mystery. But whether it's Mike, Kim or Jimmy, the choice to go north or south (metaphorically speaking) still lingers for all of them. Where they go from here as the final season unfolds couldn't be more exciting.
Mike is a proud, sarcastic nerd with a penchant for comic books, comic book movies, and movies in general, and occasional delusions of grandeur. He's also a UC Berkeley graduate who decided to go into writing over pre-med because he figured he'd ultimately save more lives by not being a doctor. He's a Slytherin and a Pisces, so he's very emotionally sensitive, yet also evil, but can be defeated by exploiting his insecurities. His goal is to live one hell of a unique life, and it's been working so far! His proudest moments are being retweeted by James Gunn and Ryan Reynolds in the same week, and getting 999,999 points on Buzz Lightyear Astro Blasters at Disneyland.
You can find Mike's writing around the web at publications like The Nerds of Color, What to Watch, Spoiler Free Reviews, and That's It LA.