HBO Max: Everything you need to know about the premium service
It's not HBO. It's HBO Max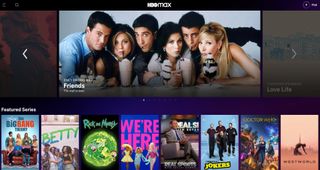 Since its launch in 2020, HBO Max has established itself as one of the major streaming services on the market. On one hand it's HBO. But on the other hand, it's so much more.
HBO Max takes some of the biggest brands under the WarnerMedia umbrella and unites their content in one package, available pretty much everywhere you can find HBO. (Which is, to say, everywhere.) The service — which includes the legacy HBO content in addition to all kinds of shows from across the larger WarnerMedia world — went live on May 27, 2020. It's available pretty much everywhere the existing HBO service is available, and cost exactly the same.
Here's everything you need to know about the new HBO Max.
What's the latest on HBO Max?
Sept. 17, 2021: HBO Max cuts subscription fee in half after leaving Amazon Prime Video
Aug. 3, 2021: HBO Max is now available as an app on LG smart TVs in the United States
July 23, 2021: Warner Bros. producing more than 10 films 'for HBO Max on Day 1'
June 2, 2021: You can now get HBO Max for $9.99 a month, but with major limitations
May 26, 2021: HBO Max begins its Latin American expansion on June 29
April 28, 2021: The NHL is coming to TBS, TNT and HBO Max with a 7-year agreement
March 12, 2021: HBO Max plans 60 new markets in 2021, will launch ad-supported version in June
Feb. 18, 2021: YouTube TV bundles HBO Max, Showtime and STARZ together to save you $5
Dec. 16, 2020: HBO Max is now available on Roku!
Dec. 15, 2020: HBO Max is now available on Comcast Xfinity X1 and Flex
Dec. 3, 2020: Warner Bros. will send its entire 2021 film slate to HBO Max
Nov. 16, 2020: HBO Max is finally coming to Amazon Fire TV
What's the difference between HBO and HBO Max?
The legacy HBO cable channel that we know and love is still there, same as it ever ways, offering incredible original content paired alongside the best of Hollywood. Now there's also HBO Max, existing side by side with its predecessor. But make no mistake, WarnerMedia (the parent company of HBO) wants you on HBO Max.
What's better about HBO Max? It has everything that's on HBO, plus movies and shows from many of WarnerMedia's other brands, such as TBS, TNT, CNN, Cartoon Network, Adult Swim, selected shows from Turner Classic Movies and even HBO Max originals. WarnerMedia says that it has more than 13,000 hours of content available on the streaming service.
How much does HBO Max cost?
HBO Max has two subscription plans available to consumers. The first is the $14.99 ad-free plan (the same as a legacy HBO account) that has been available at launch. This plan gives you access to any and all content available on HBO Max, including the limited streaming debuts of 2021 Warner Bros. movies.
There is also the $9.99 ad-supported plan for HBO Max. The ad-supported plan offers the same access to library titles and HBO Max originals (just with ads occasionally inserted), but it does not allow subscribers to stream the 2021 Warner Bros. movies when they appear for their limited run. There are other limitations to the service, including no 4K resolution and no ability to download content to watch offline.
Can I get HBO Max for free?
Some folks will, yes. And we're not just talking about a free "upgrade" for those who are currently paying for the legacy HBO. Some people will get HBO Max without paying an additional dime.
So how can you get HBO Max for free? We've got a full breakdown here , but the short version is if you're paying AT&T money for wireless service, for home internet, or one of its other video services, there's a good chance you can get. HBO Max for no extra charge. And some cable system like Charter also are giving customers HBO Max for free.
What all is on HBO Max?
Like we said, HBO Max is HBO, and then some. It'll have new movies every month, of course, as well as all the HBO originals you've come to know and love, like Westworld, Last Week Tonight and Insecure. But there are new HBO Max originals on the way as well.
Check out what What to Watch thinks are the best HBO Max Originals, or read below for the full list.
12 Dates of Christmas
A World of Calm
Baketopia
The Big Shot With Bethenny
The Bridge
Close Enough
Craftopia
Doom Patrol
Ellen's Next Great Designer
Esme & Roy
FBOY Island
The Flight Attendant
Full Bloom
Generation
Gossip Girl
Hacks
Haute Dog
The Hype
Infinity Train
It's a Sin
Karma
Legendary
Love Life
Made for Love
Mo Willems and the Storytime All-Stars Present: Don't Let the Pigeon Do Storytime Shorts
My Sesame Street Friends
The Not-Too-Late Show With Elmo
The Other Two
The Prince
Raised by Wolves
Search Party
Selena + Chef
Sesame Street
Starstruck
Stylish With Jenna Lyons
Summer Camp Island
Sweet Life: Los Angeles
That Damn Michael Che
Titans
Veneno
And then there are all the shows that you'll find from all the other WarnerMedia networks coming to HBO Max.
How can I watch HBO Max?
If you can watch HBO Now, you can watch HBO Max. That's true for your phone and tablet, streaming devices like Roku, Apple TV, Android TV and more. That's true for your web browser. Basically you can watch HBO Max on any modern device. And if you're a current HBO Now subscriber, you'll automatically have access to. HBO Max.
Here's the full list of supported devices:
iPhone, iPad and iPod Touch with iOS 12.2 or newer
Android phones and tablets with Android 5 or newer
PC running Windows 7 or newer
Mac with macOS 10.10 (Yosemite) or newer
Google Chromebooks
A web browser (Chrome, Firefox, Edge, Safari)
Android TV
Apple TV (4th generation or newer)
PlayStation 4
Select Samsung Smart TVs
Xbox One
Chromecast
AirPlay
Roku
What bitrate does HBO Max stream at?
One of the big questions folks had about HBO Max was whether streaming quality was going to be better than what we've experienced on HBO Now. The short version was that you could get a better picture quality watching through Amazon Prime Video than you could through HBO's own standalone apps.
We're happy to report that, as promised, bitrate is about twice as good on the standalone HBO Max app than it was on HBO Now. We've been seeing an average bitrate of 10 Mbps or more.
That still doesn't change the fact that HBO Max isn't yet available in 4K (nor will it do much to make older content look better), but it's definitely an improvement over the previous incarnation.
Get the latest updates, reviews and unmissable series to watch and more!
Thank you for signing up to Whattowatch. You will receive a verification email shortly.
There was a problem. Please refresh the page and try again.