YouTube TV Channels, Packages & Pricing in 2021: Channel List, DVR, Add-ons
One. There's one package with YouTube TV channels. And that's not a bad thing.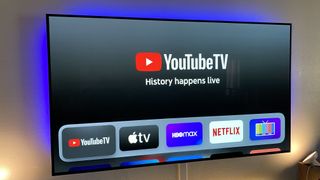 (Image credit: WhatToWatch.com)
There are more than 90 YouTube TV channels available today. That includes your local broadcast networks from ABC, CBS, Fox and NBC, as well as many traditional cable networks and regional programming. YouTube TV is available in more than 98 precent of American households. 
So if you're considering YouTube TV channels and considering YouTube TV as your streaming solution of choice — and it really comes down to YouTube TV vs. Hulu these days, it's definitely worth a look. And it's also worth your time to peruse the myriad options YouTube TV presents. The good news is it won't take long. There is but one plan for YouTube TV. One flat price. That's it.
YouTube TV costs $64.99 a month. OK, plus tax. But that's it. You don't have to figure out which channels you get with which options. Just a single monthly fee (again, plus tax), and you get what you get.
And, yes, that price is higher than what it used to be. YouTube TV announced the $15 price hike on June 30, 2020, and it went into effect immediately. But there also are more YouTube TV channels than ever before.
Just like other streaming services, YouTube TV doesn't have any contracts, so you can cancel at any point without penalty. And while it doesn't have as many channels as some of the other services (mainly Sling TV, which has lower prices but more options, and AT&T TV Now, which has a slew of more expensive plans), it's still highly competitive, with local channels available through streaming, and a free, unlimited cloud-based DVR.
And if you decide to go with YouTube TV, you'll find yourself in good company. The service has more than 3 million subscribers as of October 2020 and is basically as big as the other major players in the space. YouTube TV's parent company, Google, doesn't give updates on subscriber count as much as the other services do, however, so there's a lack of fidelity there. We know that it had more than 2 million subscribers at the end of 2019, and 3 million just nine months later.
YouTube TV also has continued to add new add-on options. HBO Max is available for the first time, as is Showtime. And there's also a new Sports Plus option with NFL RedZone, Fox Soccer Plus and more. And in November 2020, YouTube TV added an option for Hallmark Movies Now. It also now has most of the major ViacomCBS channels, including Comedy Central, MTV and BET.
And starting April 6, 2021, T-Mobile subscribers can get YouTube TV for $10 off each month.
Or maybe you just need a VPN?
YouTube TV is great! But if you're trying to watch something from the United States but have found yourself outside the country, a VPN might be the right way to make sure you can watch what you want to watch.
A virtual private network tunnels all of your computer's network traffic through a specific set of servers in a specific country. And any VPN worth its salt is going to have servers in countries all over the world, so you watch what you want to watch no matter where you are.
The trick is that you need to be able to trust your VPN because it'll be handling all of your network traffic. And for that, we highly recommend ExpressVPN.
ExpressVPN makes it easy to watch your favorite sports and shows no matter where you are, because it makes it possible for your internet traffic to be routed through your home country — even if you're on the road somewhere.
It's safe, it's secure, it's easy to use, and it's got a free trial, so you can make sure it's the right VPN for you. (Hint: It will be.)View Deal
YouTube TV alternatives
If you're looking for the latest on the other live TV streaming services that compete with YouTube TV, we've got you covered.
And you've got a lot of options here, at various price points. Hulu With Live TV is the most popular of any of the services — it's the only one that's bigger than YouTube TV.
FuboTV is another new favorite YouTube TV alternative. It's priced similarly to YouTube TV, and has a comparable list of channels. Its premium add-ons place a special emphasis on sports, and it's one of the only ways to watch the occasional sporting event in 4K resolution in the United States.
Here's what we think you should take a look at if you're looking at something other than YouTube TV:
The latest news on YouTube TV
YouTube TV doesn't change things up too often. Occasionally it will offer free previews of premium channels like Showtime or HBO — or even NFL RedZone. And YouTube TV has tended to increase its monthly subscription fees every couple of years, in line with other services.
So if you're looking for the latest YouTube TV news, we'll have it here on the rare occasion that there's news to share.
YouTube TV Channels, Add-ons, Sports Plus and more
YouTube TV has a number of premium add-on channels available. These are channels that require an extra fee outside of your usual YouTube TV cost. But this is the best way to get uncut and uncensored movies on YouTube TV.
Subscriptions and billing are handled directly within YouTube TV itself, and the channels appear in the main YouTube TV guide. And that's cool because it lets you move things around and put them as high up in the list as you like. (Here's how to edit your YouTube TV channels.)
The list of premium channels on YouTube TV includes the following:
Acorn ($6)
ALLBLK ($5)
AMC + ($7)
Cinemax ($10)
CuriosityStream ($3)
EPIX ($6)
Hallmark Movies Now ($6)
HBO ($15)
HBO Max ($15)
IFC Films Unlimited ($6)
MLB.TV ($25 a month, or $130 for the season)
Showtime ($11)
Shudder ($6)
STARZ ($9)
Sundance Now ($7)
Urban Movie Channel ($5)
WE tv+ ($6)
YouTube TV includes channels like ESPN, NFL Netflix and the Fox Sports channels. And it also also now has a Sports Plus premium add-on. This will get you seven additional sports channels that put an emphasis on some international sports and things that you normally won't find in the United States.
For $10.99 a month you can also get the following as part of a package:
NFL RedZone
Fox College Sports
GOLTV
Fox Soccer Plus
MAVTV Motorsports Network
TVG
Stadium
And in February 2021, YouTube TV added the "Entertainment Plus" bundle for $29.99 a month. It gives you HBO Max, Showtime and STARZ, which normally would cost you $35 a month if you got each separately.
What YouTube TV channels are available?
YouTube TV channels come in a single plan, so you get the same channels as everyone else. (It's possible there are regional restrictions.) There aren't any separate packages, per se (other than the sports premium mentioned above), so what you see is what you get. (Unless you hide some of the channels, which is a perfectly OK thing to do.)
YouTube TV also doesn't really organize its channels in any particular way, save for your local affiliates appearing up top. Anything new is added to the bottom, and from there it's up to you to rearrange things as you see fit. 
You do have the option to show your channels either in the "default" order (which, presumably, is YouTube TV and Google predicting what you're going to be most likely to watch), or you can have a custom view, with channels in whatever order you prefer.
Here are the YouTube TV channels available to most subscribers:
ABC
ACC Network
AMC
Animal Planet
BBC America
BBC World News
BET
BET Her
BTN
Bravo
CBS
CBS Sports Network
CMT
CNBC
CNBC World
CNN
Cartoon NEtwork
Cheddar Business
Cheddar News
Comedy Central
Court TV
Cozi
Dabl
Discovery Channel
Disney Channel
Disney Junior
Disney XD
E!
EPIX*
ESPN
ESPN2
ESPNU
ESPNews
FS1
FS2
FX
FXM
FXX
Food Network
Fox
Fox Business
Fox News
Freeform
Golf Channel
HGTV
HLN
IFC
Investigation Discovery
Local Now
MLB Network
MSNBC
MTV
MTV Classic
MTV2
MotorTrend
NBA TV
NBC
NBCSN
Nat Geo
Nat Geo Wild
NBCLX
Newsy
NFL Network
Nick Jr.
NickToons
Nickelodeon 
OWN
Olympic Channel
Oxygen
PBS
PBS Kids
Paramount Network
Pop
QVC
Regional Sports Networks
SEC Network
SYFY
Smithsonian Channel
Start TV
Sundance TV
TBS
TLC
TNT
TV Land
TYT Network
Tastemade
TeenNick
The CW
Travel Channel
Turner Classic Movies
USA
Universal Kids
Universo
VH1
WE tv
truTV
Get the latest updates, reviews and unmissable series to watch and more!
Thank you for signing up to Whattowatch. You will receive a verification email shortly.
There was a problem. Please refresh the page and try again.