FuboTV channels, packages, price, DVR and add-ons
FuboTV is a great option — particularly for sports lovers.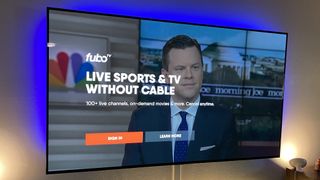 (Image credit: WhatToWatch.com)
FuboTV is one of the most popular live TV streaming services, offering 130 channels in its base tier and over 230 if you're willing to spend a bit more for its premium offering.
Starting life as a sports-only live TV service in 2015, FuboTV has transformed, now having a huge number more channels, many of them not sports related, though the price has increased proportionally too.
FuboTV is still a good pick for sports fans though — if you're interested in the soccer World Cup 2022, you'll be able to watch them via the Fox channels of FuboTV.
Nowadays. the service offers a great lineup of live channels that stacks up against any other service. And it's also got all the add-on features you'd look for in this sort of thing.
FuboTV also has a pretty big leg up on the competition, if you're a sports lover — it streams sports (not all sports, but some sports) in 4K resolution. In the summer of 2018, it streamed its first sports event in 4K — the final rounds of the FIFA Men's World Cup. Since then, it's continuously streamed a smattering of games and events in 4K.
FuboTV plans
FuboTV now has four plans to choose from when you sign up for a subscription. All of these plans also come with a one-week FuboTV free trial, allowing you to try before you buy and there's no contract so you can cancel at any time. All super easy...
FuboTV Pro plan
The Pro plan ($69.99 a month) is FuboTV's entry package giving you all the channels you'd expect — like ABC, Paramount Network, the Disney Channel and Bravo — as well as access to over 100 sporting events. As with all FuboTV plans you get a Cloud DVR, perfect for recording shows and events when you can't be home to watch and you get to use up to three screens on the go.
FuboTV Elite plan
With the Elite plan, as you'd expect, the content offering goes up a notch. You get more channels (177) in the main Fubo service and access to more sporting events (130 instead of 100). In addition, you get Fubo Extra which gives you another 41 channels — including Nat Geo Wild (perfect for watching Sharkfest) and the sports-specific NBA TV, MLB TV and NHL TV. News Plus is perfect for news junkies with another 12 channels including BBC World News and Africa News.
FuboTV Ultimate plan
Unsurprisingly the FuboTV Ultimate plan is the big beast in the Fubo stable. You jump from 177 channels to 212. More excitingly you get live and on-demand access to the ever-popular SHOWTIME with its vast library of movies, premium shows and sports content (MMA and boxing bouts) and to Sports Plus with NFL Redzone — watch every touchdown from every game, every Sunday afternoon.
FuboTV Latino plan
With the FuboTV Latino plan ($33) you get 43 Spanish-language channels, including a mix of sports, factual programming and movie channels. You only get 250 hours of cloud DVR and up to two screens at once, with this plan but if these features are important to you, you can always upgrade and boost your Cloud DVR to 1000 hours or sign up for unlimited screens.
FuboTV channels
Fubo basic channels
The three English-language FuboTV plans carry most of the major channels that you'd be looking for — the exception being the Turner/WarnerMedia channels like TCM and HBO Max. You do, however, get everything from The Disney Channel to SyFy, MSNBC, AMC, MTV, ABC and BBC America. So plenty to choose from.

The FuboTV website (opens in new tab) has a full list of the 124 basic channels that you get with each English-language plan.
FuboTV premium channel add-ons
In keeping with FuboTV's mix and match offering, there are a number of premium channels that you can add to whichever plan you have. These are:
AMC Premiere, $4.99 a month.
You'll get extended episodes, new episodes ad-free and select full seasons, bonus content, uncut movies and more.
EPIX, $5.99 a month
Includes the top live channels, plus thousands of movies and shows.
Pantaya, $5.99 a month
Spanish-language movie channel (from classics to current)
Showtime, $10.99 a month
You get all of Showtime's live channels plus the entire SHOWTIME library
Showtime, EPIX and STARZ bundle, $19.99 per month
You can also bundle SHOWTIME, EPIX and STARZ into one package.
Starz, $8.99 a month
Includes the whole family of Starz channels, plus on-demand access.
FuboTV channel add-ons
FuboTV has a number of add-on packages available so, depending on your interest area you can create a package that suits you without paying for channels you don't need.
Sports Plus with NFL RedZone add-on, $10.99 a month
NFL RedZone
NBA TV
NHL Network
MLB Network
MLB Strikezone
Stadium
Tennis Channel
Zona Futbol
ESPN-U
PAC-12 Network
VSiN
ACCN ESPN
Game+
Fight Network
TVG2
Stadium 1
Stadium 2
Stadium 3
SEC Network
ESPN News
PAC-12 Arizona
PAC-12 Bay Area
PAC-12 Los Angeles
PAC-12 Mountain
PAC-12 Oregon
PAC-12 Washington
Fuel TV
Fubo Extra add-on, $7.99 a month
There are 41 channels in this add-on, with a variety of programming from cooking to sports. Some of the channels include:
Cooking Channel
Game Show Network
BBC World News
NBA TV
NHL Network
MLB TV
Sony
People TV
Zona Futbol
INSP
Revolt
CNBC
Tennis Channel
Fuse
Teen Nick
Nick Toons
Nick Music
BET Jams
Nat Geo Wild
International Sports Plus add-on ($6.99 a month):
This add-on gives you live coverage of world-class sporting tournaments, perfect for international sports fans.
Fubo Latina Network
Fox Deportes
Zona Futbol
ESPN HD Deportes
GolTV English
GolTV Spanish
TyC Sports
Fox Soccer Plus
Tigo Sports
NXT LVL Sports
Real Madrid TV
Adventure Plus add-on, $4.99 a month
For the extreme sports fan, the adventure add-on gets you:
Outdoor Channel
Sportsman Channel
World Fishing Network
Outside TV
MAV TV
Insight TV
Sports Lite add-on, $9.99 a month:
For only a dollar a month less than the full Sports Plus add-on, this small bundle of sports channels doesn't feel like the best value. But it's an option...
NBA TV
MLB Network
NHL Network
Tennis Channel
SEC Network
ACC Network
ESPN-U
ESPN News
Latino Plus add-on, $19.99 a month:
The Latino Plus add-on includes a mix of sports, movies and entertainment channels:
Fox Deportes
Zona Futbol
ESPN HD Deportes
GolTV Spanish
TyC Sports
Sony Cine Television
Nat Geo Mundo
Más Chic
Nuestra Tele
Telefe
Discovery Familia
Discovery en Español
Tr3s
Baby TV Español
Passiones
The Weather Channel en Espanol
Estrella News
Wapa America
CATV
Television Dominicana
Hogar
Cine Latino
Portuguese Plus add-on, $14.99 a month
Benfica TV
Gol TV Spanish
RTP International
RTP 3
RTP Acores
TV5MONDE add-on, $9.99 a month
The French language TV network offers live coverage and highlights of sports, films, and news with English subtitles.
RAI Italia add-on, $8.99 a month
Rai Italia gets you Italian coverage of Seria A and Coppa Italia soccer, along with news, shows, and movies.
FuboTV upgrades
FuboTVallows you to pay to add or boost features if they aren't included in your plan.
DVR storage: there are two options to add more storage space
Cloud DVR 250, which increases your DVR space by 250 hours, for $9.99 per month Cloud DVR 1000, which increases DVR space by 1,000 hours, for $16.99 per month.
The Family Share upgrade costs $5.99 per month and lets up to three people stream at the same time.
Unlimited Screens is an upgrade that allows users to watch FuboTV on up to 10 devices at once at home, plus two on the go. Family Share can be added for an extra screen on the go.
How to subscribe to FuboTV
In your favorite web browser, hit up www.fubo.tv

(opens in new tab)

Click the "Start Free Trial" button.
Enter your email address and create a strong, unique password. (Or use the single-sign-on option.)
Pick your package of choice and click "Start Free Trial."
Choose your add-ons and any extra packages.
Click the "Continue to Last Step" button.
Enter your payment information.
Click "Start Watching FuboTV."
Does FuboTV stream in 4K?
Yes, sometimes... And not just sports. FuboTV is one of the few ways you can watch live sports in 4K resolution in the United States. We're not going to nitpick too much about the fact that you're almost certainly watching an upscaled feed (they're at the mercy of the content provider). The simple fact is that a 4K stream looks better than a stream that is not 4K and basically, it's going to ruin you for anything else.
The bad news is that you're only looking at a handful of games that stream in 4K. FuboTV also has some premium movie programming available in 4K resolution if you have the EPIX add-on.
Phil spent his 20s in the newsroom of the Pensacola (Fla.) News Journal, his 30s on the road for AndroidCentral.com and Mobile Nations and is the Dad part of Modern Dad.
Thank you for signing up to Whattowatch. You will receive a verification email shortly.
There was a problem. Please refresh the page and try again.