Prime Video cost, channels, app — all you need to know
By Phil Nickinson published
Like Amazon itself, Prime Video has just about everything.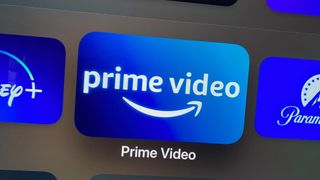 (Image credit: WhatToWatch.com)
Amazon has everything. Think of something. Anything tangible that you can buy. There's an excellent chance you can get it on Amazon. And that extends to all things video. DVDs. Streaming. Hell, even VHS tapes... if you're really old.
Amazon's video play is massive. It's also a little confusing when you're trying to work out what you can watch for free with an Amazon Prime subscription (opens in new tab), what's free with ads (via Amazon's ad-supported service FreeVee), what you have to rent/buy and what's an add-on service, like Prime Video Channels.
We can help break things down a little. Which we'll explain more in our guide to Prime Video.
What is Prime Video? Is it free with Amazon Prime?
Prime Video is the umbrella term for all things video on Amazon. Search for something to watch inside Amazon and you'll see the words (and logo) for Prime Video.
It also invokes Amazon Prime, which is the original Amazon subscription service that, among other things, gets you free shipping and a host of other benefits — including countless shows and movies, all available for free.
You don't need a subscription to Amazon Prime to watch videos on Amazon. You can just rent, or buy, any available movie or show that Amazon has. You'll be watching it through Prime Video. It's just not free, is all.
The easiest way to understand what you get for free and what you have to pay for is to look for the Prime logo on a video thumbnail. If it's got the logo, it's free with a Prime subscription.
How much does Prime Video cost?
What, exactly, does Prime Video cost? Like so much else with Prime Video, it's not quite that simple.
As you've read, the "Prime Video" name means a few things. But to simplify things as much as possible a subscription to Amazon Prime costs $12.99/£7.99 a month, or $119/£79.99 a year. And for that price, you get access to a ton of free content.
What are Prime Video channels?
Prime Video Channels also can sound a little confusing. All it is, really, is a bunch of "add-on channels" that you can subscribe to from within Amazon. There are a number of niche channels — from horror, to kids, romance to indie film, including a number of international offerings.
One extremely popular example of this is Britbox, which serves up British shows for a global audience. You subscribe to it via Prime Video Channels and Amazon handles all the billing via your Amazon account. And then you watch it from within Prime Video itself.
One thing to note — as the name implies, you'll need an Amazon Prime membership before you can sign up and watch any of these "add-on" channels. After that, it's just a matter of making your through the dozens and dozens of available channels to find something that tickles your fancy.
Acorn TV
BFI Player
Britbox
Brown Sugar
Cheddar
Curzon Film
FreeVee
Hallmark Movies
HBO
Mubi
PBS Kids
PBS Masterpiece
Showtime
Shudder
Stand-Up Karaoke
Sundance Now
Sports Illustrated TV
That really is just the tip of the iceberg — the entire list is way too long to publish here. The best thing you can do is just hop on over to the Amazon Prime Video Channels section and flip through it yourself. Find something you want to check out, subscribe — with a free trial — and then pay a monthly subscription once that runs out. And then wonder how you didn't know about this before...
MORE: Ten Prime Video Channels you need to know
What countries is Prime Video available in?
Prime Video is available worldwide — there's a pretty good chance that no matter where you are, you've got access to Prime Video. What you can watch in a particular country may vary, however. That's pretty standard, of course — a movie that's available in one place may not be available in all locations.
What can you watch on Prime Video?
The short version here is that you can watch what feels like just about anything and everything on Prime Video. OK, maybe not everything. Some exclusive shows, like Loki — which lives on Disney Plus — aren't available on Prime Video, obviously.
On the other hand, you can rent or purchase the Marvel movies to stream on Prime Video, even though they're also available as part of a Disney Plus subscription. Otherwise, go nuts. This is Amazon, after all.
You don't properly appreciate just how much video content Amazon has at its disposal. Just how much video it could throw at you at any given time. Between all the free stuff you can watch on Amazon Prime Video, or all the stuff you could rent or buy long before it hits the free end of things — there's more than enough video to last a lifetime.
Phil spent his 20s in the newsroom of the Pensacola (Fla.) News Journal, his 30s on the road for AndroidCentral.com and Mobile Nations and is the Dad part of Modern Dad.
Get the latest updates, reviews and unmissable series to watch and more!
Thank you for signing up to Whattowatch. You will receive a verification email shortly.
There was a problem. Please refresh the page and try again.