How to watch the Marvel movies in order
Everyone has their own best way to watch the Marvel movies in order. This is ours.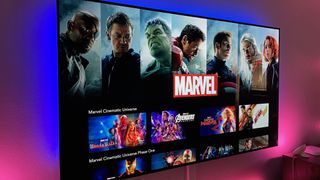 (Image credit: WhatToWatch.com)
Looking to watch the Marvel movies in order? Here's how.
There have been a lot of Marvel movies made in a relatively short time. As in, just over a decade now. From 2008's Iron Man to the end of "Phase 3" with Spider-Man: Far From Home it's been one hell of a ride.
And it's not slowing down anytime soon. WandaVision opened Phase 4 this year in a big way, and since then we've been treated to a bunch of new Marvel releases — Eternals and Black Widow have already graced the silver screen in 2021, and Spider-Man: No Way Home is on its way in December, plus we've had more action from Loki, The Falcon and the Winter Soldier, and Marvel's What If..., plus Hawkeye has recently kicked off its six-episode run on Disney+.
As the Marvel Cinematic Universe continues to expand, the MCU timeline is growing more and more complicated. If you're new to the MCU (or just planning a rewatch), and looking for the best way to watch the Marvel movies in order, we've got you covered.
There are two main ways to work your way through the films: release order, and chronological order. There's just one thing to bear in mind: whichever way you watch them, the majority of the Marvel movies all the TV shows can be found on Disney+, although a handful of them will be found elsewhere.
Regardless, here are the two ways you can watch the Marvel movies in order. We've also added in the Marvel TV shows so you can get the ultimate superhero viewing experience. We also have a how to watch the Alien movies in order guide!
How to watch the Marvel movies in chronological order
This takes you straight through the Marvel timeline by when each movie is set.
Things kick off with Captain America: The First Avenger. It was the fifth movie to be released, but the Steve Rogers experiment took place way back during World War II, making it the first movie chronologically by some margin.
That said, there's a little wiggle room here. Some of the films don't have exact dates, though it's easy enough to see where they fit between the events in the other movies. As and when new shows and movies release, we'll be sure to add them in so you can keep up with the entire MCU timeline.
Here's the list in full:
Watch the Marvel movies in release date order
The other way we love to watch the Marvel movies in order is by their release date. Although the story will leap back and forwards in time this way, some films lend themselves to being watched in release date order.
For example, if it's your first time through the story, it makes sense to watch Captain Marvel much later, as there's a lot of backstory that probably won't mean as much to you if you aren't already familiar with what went on elsewhere in the MCU before it was released.
Here's how you can watch the Marvel movies in the order they were originally released:
MCU Phase 1
MCU Phase 2
MCU Phase 3
MCU Phase 4
Doctor Strange in the Multiverse of Madness (May 6, 2022)
Thor: Love and Thunder (July 8, 2022)
Black Panther 2 (Nov. 11, 2022)
The Marvels (TBD 2023)
Ant-Man and the Wasp: Quantumania (July 28, 2023)
Guardians of the Galaxy Vol. 3 (2023)
Fantastic Four (TBA)
Get the What to Watch Newsletter
The latest updates, reviews and unmissable series to watch and more!