What's new on Max in September 2023
Everything that's coming to Max in September — What to Watch picks the TV shows and movies to add to your watch list.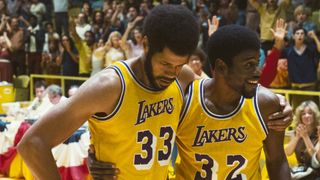 (Image credit: Warrick Page/HBO)
As we say goodbye to summer, Max has quite the slate of new content to usher subscribers into the fall. From new episodes of the hit series Winning Time season 2 to the series premiere of Matthew A. Cherry's Young Love to seven seasons of Fear of the Walking Dead, there are plenty of options to choose from. Oh and for those wondering how Fear of the Walking Dead, an AMC original, made it to Max, AMC Plus is streaming seven shows on Max for a limited time.
Additionally, Max kicks off Halloween a bit earlier as several scary classics make their way to the platform.
There's a lot more coming to the streamer, and below we've provided a complete list of everything new. But first, here are our recommendations.
Best TV show on Max in September: Killing Eve (September 1)
Killing Eve is a critically acclaimed AMC/BBC original series that features Emmy-winner Sandra Oh, who happened to portray our all-time favorite Grey's Anatomy doc, Cristina Yang. The British series sees Oh play the titular character Eve as she trades in her desk job for a career being a spy. Killing Eve is joined by other AMC shows temporarily joining Max, Fear of the Walking Dead seasons 1-7, Interview with the Vampire season 1, Dark Winds season 1, Gangs of London seasons 1-2, Ride with Norman Reedus seasons 1-5 and A Discovery of Witches seasons 1-3.
Oscar-winner Matthew A. Cherry also debuts the animated series Young Love, which features the voiceover work of Issa Rae, Loretta Devine, Tamar Braxton, Sheryl Lee Ralph and more.
Best movie on Max in September: Blade Trilogy (September 1)
While we wait for Mahershala Ali's reimagined Blade movie to hit theaters, now is a great time to revisit the Blade series popularized by Wesley Snipes. For those of you not as familiar, the film follows a half-vampire/half-daywalker superhero who hunts those spooky things that go bump in the night (mainly vampires).
Speaking of bump in the night, there are plenty of scary movies streaming this month including the Friday and Children of the Corn series.
Best documentary on Max in September: Donyale Luna: Supermodel (September 13)
Donyale Luna: Supermodel looks to be a promising documentary from HBO that showcases the often untold story of the first Black supermodel to grace the covers of Harper's Bazaar and Vogue. While the world may readily know Iman, Naomi Campbell and Tyra Banks, the name Donyale Luna isn't often spoken despite her body of work.
What's new on Max in September 2023
(Max originals marked in bold)
September 1
42 (2013)
Aliens in the Attic (2009)
Anna (2019)
Annabelle (2014)
Annabelle: Creation (2017)
Annabelle Comes Home (2019)
Anne Rice's Interview with the Vampire season 1
Be Kind Rewind (2008)
Blade (1998)
Blade II (2002)
Blade: Trinity (2004)
Boyz n the Hood (1991)
Bullet to the Head (2013)
Carrie (1976)
Carrie (2013)
Cat People (1942)
Children of the Corn II: The Final Sacrifice (1993)
Children of the Corn III: Urban Harvest (1995)
Children of the Corn IV: The Gathering (1996)
Children of the Corn V: Fields of Terror (1998)
Children of the Corn 666: Isaac's Return (1999)
Children of the Corn: Revelation (2001)
A Cinderella Story (2004)
Class Action (1991)
Crazy, Stupid, Love (2011)
Critters (1986)
The Curse of La Llorona (2019)
Dark Winds season 1
Date Night (2010)
Design Defined season 1
A Discovery of Witches seasons 1-3
Doctor Sleep (2019)
Drive Me Crazy (1999)
Dutch (1991)
The Exorcist (1973)
Exorcist II: The Heretic (1977)
Fast Food Nation (2006)
Fear the Walking Dead seasons 1-7
Fire in the Sky (1993)
Firestorm (1998)
Friday (1995)
Friday the 13th (1980)
Friday the 13th Part II (1981)
Friday the 13th Part III (1982)
Friday the 13th: The Final Chapter (1984)
Friday the 13th: A New Beginning (1985)
Friday the 13th Part VI: Jason Lives (1986)
Friday the 13th Part VII: The New Blood (1988)
Friday the 13th Part VIII: Jason Takes Manhattan (1989)
Gangs of London seasons 1-2
Gangs of New York (2002)
Georgia Rule (2007)
The Ghost and the Darkness (1996)
Heartburn (1986)
It (2017)
It: Chapter Two (2019)
Juice (1992)
Just Like Heaven (2005)
Killing Eve seasons 1-4
Little Shop of Horrors (1986)
The Mask (1994)
MI-5 (2015)
Millennium (1989)
Mommie Dearest (1981)
Ordinary Love (2020)
Out of the Furnace (2013)
Philomena (2013)
Post Grad (2009)
The Rage: Carrie 2 (1992)
Restoring Galveston season 4B
Ride with Norman Reedus seasons 1-5
The Roads Not Taken (2020)
Sabrina (1995)
Scooby-Doo (2002)
Scooby-Doo 2: Monsters Unleashed (2004)
She's Funny That Way (2015)
Six Days, Seven Nights (1998)
Snitch (2013)
Source Code (2011)
Spy (2015)
Sunset Strip (2000)
Tears of the Sun (2003)
THX 1138 (1971)
Time After Time (1979)
Unfaithfully Yours (1984)
XXX (2002)
XXX: State of the Union (2005)
September 2
The Venture Bros.: Radiant Is the Blood of the Baboon Heart (2023)
September 4
Megan Thee Stallion vs Tory Lanez: Five Shots season 1
Tough Love With Hilary Farr season 2
September 5
My Big Fat Fabulous Life season 11
See It Loud: The History of Black Television season 1
Welcome to Plathville season 5
September 6
Crime Scene Confidential season 2
Max (2015)
September 7
Devil's Road: The True Story of Ed and Lorraine Warren
Does Murder Sleep?
Ghost Adventures: Horror at Joe Exotic Zoo
Ghost Brothers seasons 1-2
Ghost Loop season 1
Halloween Baking Championship seasons 1-8
Haunting in the Heartland season 1
Kids Halloween Baking Championship
Most Terrifying Places in America 2 seasons
Most Terrifying with Jason Hawes season 1
My Horror Story season 1
The Dead Files season 15B
September 8
Tiny Toons Looniversity season 1
September 9
September 10
Love & Marriage: Detroit season 1
Unsellable Houses season 4
September 11
Halloween Baking Championship season 9
The Faking Dead
September 13
Donyale Luna: Supermodel
Halloween Cake-Off
Halloween Cookie Challenge
Halloween Wars seasons 1-12
Outrageous Pumpkins seasons 1-3
September 14
September 15
Teen Titans Go! season 8C
WB 100th Behind The Shield
September 16
Batwheels season 1G
Gold Rush: Mine Rescue with Freddy & Juan season 1B
September 17
Building Roots Halloween Wars season 13
September 18
Chico Virtual (2023)
Double Cultura (2023)
El Carrito (2023)
Keep/Delete (2023)
La Macana (2023)
Thank You, Have A Nice Day (2023)
Un Pequeño Corte (2023)
September 20
September 21
American Sniper (2014)
Blippi Wonders season 3
Expedition X season 4A
September 22
Ed Stafford: First Man Out seasons 1-2
Guy's All-American Road Trip season 2
Marooned with Ed Stafford
Naked and Marooned with Ed Stafford
Nancy Drew season 4
September 23
September 24
Outrageous Pumpkins season 4
September 25
American Masters: Marilyn Monroe: Still Life
Halloween Cookie Challenge season 2
Kids Baking Championship: Bloodcurdling Bakes
September 26
Chopped volume 3
Savior Complex
September 27
Crimes Gone Viral season 3
September 28
Starstruck season 3
The Ghost Town Terror season 2
September 29
Who's Talking To Chris Wallace? season 4
September 30
Hot Dish With Franco season 1
More on streaming
Get the What to Watch Newsletter
The latest updates, reviews and unmissable series to watch and more!
Terrell Smith has a diverse writing background having penned material for a wide array of clients including the federal government and Bravo television personalities. When he's not writing as Terrell, he's writing under his pseudonym Tavion Scott, creating scripts for his audio drama podcasts. Terrell is a huge fan of great storytelling when it comes to television and film. Some of his favorite shows include The Crown, WandaVision, Abbot Elementary and Godfather of Harlem. And a fun fact is he's completely dialed into the TLC 90 Day Fiancé universe.