Best TV shows streaming this week: Netflix, Disney Plus, Prime Video and more
The best TV shows streaming this week you shouldn't miss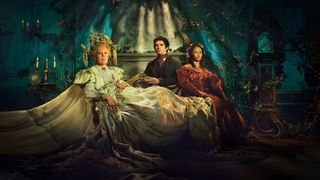 (Image credit: BBC/FX Networks/Pari Dukovic)
This round-up will help you find the best TV shows streaming this week — you won't need to spend ages with your remote, mouse or thumb flicking through the 'New' or 'Trending' tab of your favorite streaming service anymore.
So many new TV shows are added to streaming every week that you could easily miss out on a gem if you didn't have a list like this to help you. At What to Watch we scour through the new releases each week to bring you the best, and this week's round-up covers between Saturday, March 25 and Friday, March 31.
We keep tabs on each of the best streaming services when we compile this list, and on weeks like these everyone's got something on offer worth watching. This week we've got shows from Netflix, Disney Plus, Hulu, iPlayer, HBO Max, Sky TV, Paramount Plus, Apple TV Plus and Prime Video.
Phew — you better check out our best streaming deals round-up if you want to catch any of it! This list includes new shows debuting on streaming in their entirety or for their first episode, as well as episodic shows that are getting their final episode and are now fully available to stream.
Oh, and we've included some other things you can stream at the bottom. So let's get into the list:
Saturdays
Disney Plus rollerskating comedy comes to streaming on Saturday, March 25
This Disney production debuts on the Disney Channel on March 24 before rolling onto streaming the day after.
Saturdays is a rollerskating coming-of-age story about an all-girls skate crew who work to be famous at rollerskating, operating out of their local rink caled 'Saturdays' in Chicago, all while dealing with their everyday lives.
Two episodes are releasing weekly every week until April 28.
— Tom Bedford
Great Expectations
Hulu & iPlayer enjoy new Dickens adaptation from Sunday, March 26
What the Dickens is this?
Great Expectations is another adaptation of the classic Charlies Dickens book, this starring Olivia Colman, which is about a young boy trying to become a man in the shadow of the haunting Miss Havisham.
Steven Knight, of Peaky Blinders fame, leads the adaptation, so we've high hopes for it.
Great Expectations was co-produced between the BBC and FX, which means it's being released on both sides of the Atlantic at once. You can watch it on BBC's iPlayer in the UK and Hulu in the US, as it's streaming at the same time as it's being put on live TV, and episodes are releasing weekly.
— Tom Bedford
Succession season 4
HBO Max drama series debuts new season on Sunday, March 26, and day later on Sky in UK
The HBO dark comedy-drama about a media mogul and his family's quest to take over control of the company enters its fourth and final season.
For Logan Roy (Brian Cox), he might be calling the shots with regard to his empire but the decisions he made at the end of season 3 left his children — Kendall (Jeremy Strong), Shiv (Sarah Snook) and Roman (Kieran Culkin) — on the other side of the battlefield.
In Succession season 4, the fight for control of WaystarRoyco is on, and there will most certainly be casualties on both sides. You can stream it on HBO Max in the US, and it comes to Sky TV in the UK a day later.
— Sarabeth Pollock
Rabbit Hole
Paramount Plus spy thriller arrives Sunday, March 26
In the new Paramount Plus series Rabbit Hole, Kiefer Sutherland stars as John Weir, a corporate espionage operative who finds himself running from a powerful group of people who frame him for murder.
These people have influence everywhere, and it's a race against time to find out who set him up so that he can clear his name. The problem is that there's nowhere to run, nowhere to hide and nowhere that's safe.
— Sarabeth Pollock
Emergency NYC
Netflix docuseries on frontline workers released Wednesday, March 29
The new Netflix documentary Emergency: NYC takes viewers on a journey with some of New York City's trauma professionals. From helicopters to ERs, we're following members of trauma teams as they save lives and share their personal stories.
Medical dramas have always been popular, but this time the doctors and nurses are showing what it's really like when every minute counts to save the lives of people in danger.
— Sarabeth Pollock
The Big Door Prize
Apple TV Plus sci-fi comedy drama starts Wednesday, March 29
The Big Door Prize is a new, warm-hearted Apple TV Plus Original comedy based on the bestselling novel (opens in new tab) by M. O. Walsh. It tells the story of a small American town that's turned upside down by the appearance of a mysterious machine in a convenience store.
The Morpho machine promises to reveal the true potential of each and every resident living in Deerfield, Louisiana, all for just a couple of bucks, and suddenly everyone starts deciding to change their path forward…everyone except school teacher, Dusty (The IT Crowd's Chris O'Dowd), who isn't necessarily ready to adjust to a new culture and thinks he might be happy with the life he's already leading.
The first three episodes will be available when The Big Door Prize premieres, with the remaining seven dropping on a weekly basis.
— Martin Shore
Unstable
Netflix comedy lands on Thursday, March 30
Real-life father and son Rob and John Owen Lowe play fictional father and son in this gently Netflix comedy, with the full run of 8 30-minute episodes landing in one batch on March 30.
Unstable is about Ellis Dragon (Rob), successful yet eccentric business owner who's becoming more... well, unstable, after the death of his wife. To stop this his son Jackson (John Owen), a quiet and anti-social youngster, comes to work at his father's company to keep him... well, company.
Lowe and Lowe are also producers for the show, so it's certainly a father-son team both in front of and behind the camera, and apparently, the series is actually inspired by John Owen's Twitter trolling of his famous dad.
— Tom Bedford
The Power
Prime Video sci-fi drama debuts on Friday, March 31
Another big Prime Video show featuring the word 'Power', The Power is Amazon's next big streaming show.
The Power, based on a bestselling novel (opens in new tab) by Naomi Alderman, is a drama set in a world similar to ours, except all teenage girls develop the superpower to shoot electricity from their fingers at will. The story explores this world, looking at the shift in global power dynamics and how characters fare in such a world.
The show stars Toni Collette, Auli'i Cravalho and John Leguizamo, and also features Eddie Marsan, Rob Delaney and Daniela Vega. That's a big-star cast for something Amazon is presenting as its next hit.
— Tom Bedford
---
What else to stream this week
What else is new on streaming services?
Get the What to Watch Newsletter
The latest updates, reviews and unmissable series to watch and more!
Streaming and Ecommerce Writer
Tom is the streaming and ecommerce writer at What to Watch, covering streaming services in the US and UK. His goal is to help you navigate the busy and confusing online video market, to help you find the TV, movies and sports that you're looking for without having to spend too much money.