Winning Time: The Rise of the Lakers Dynasty — trailer, recaps, cast and all we know about the drama series
The new limited series, Winning Time charts the creation of the Los Angeles Lakers dynasty in the 1980s.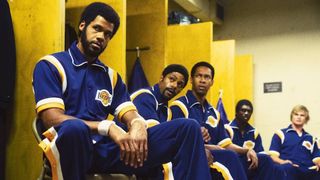 (Image credit: Warrick Page/HBO)
The Los Angeles Lakers are one of the most iconic sports franchises in the world, so it's certainly not a stretch that they would get their own HBO drama series. Chronicling the franchise's meteoric rise in the 1980s, Winning Time: The Rise of the Lakers Dynasty will bring fans a dramatic look at how the team, led by Jerry Buss and Magic Johnson, helped define an era of NBA basketball known as "Showtime."
HBO has long been a home of great sports content. In addition to its documentary and sports news programming, including Real Sports with Bryant Gumble, HBO has developed shows like Eastbound & Down, Ballers and the TV movie 61*. The premium cable channel is heading to the basketball court for this latest entry.
Adam McKay (Don't Look Up, The Big Short) is producing Winning Time and is credited with directing one episode. Max Borenstein and Jim Hect co-created the series.
Here is everything that we know about the HBO drama.
Where to watch Winning Time
Winning Time premiered on March 6 2022 at 9 pm ET/PT on HBO and HBO Max in the US and began airing in the UK on March 28, on Sky TV (opens in new tab). The show is available to stream on-demand, on both streaming services
Winning Time plot
Winning Time is based on the 2014 book by Jeff Pearlman, Showtime: Magic, Kareem, Riley and the Los Angeles Lakers Dynasty of the 1980s (opens in new tab). The book follows the Lakers from their selection of Earvin "Magic" Johnson with the first overall pick in the 1979 NBA draft and dives into all of the larger-than-life personalities that made up the team, including other players like Kareem Abdul-Jabbar and head coach Pat Riley, and the run-and-gun style of play they used that became must-watch and helped define that era of basketball.
Winning Time trailer
HBO spoiled us with a new trailer delivered during Super Bowl 2022.
It introduces the show's central characters of Jerry Buss, Jeanie Buss and Magic Johnson and highlights the A-list cast and the scope of the story.
Winning Time cast
The Los Angeles Lakers were made up of plenty of all-star type players, well so is the roster of actors that appear in Winning Time.
Headlining things is John C. Reilly. Best known for his roles in Step Brothers, Chicago and Walk Hard: The Dewey Cox Story, Reilly will be playing Lakers owner Jerry Buss in the series. Joining Reilly will be the likes of Adrian Brody, Jason Clarke, Sally Field, Gabby Hoffman, Rob Morgan and newcomer Quincy Isaiah as Magic Johnson.
Here is a detailed list of the main cast:
John C. Reilly - Jerry Buss
Quincy Isaiah - Magic Johnson
Jason Clarke - Jerry West
Adrien Brody - Pat Riley
Gaby Hoffman - Claire Rothman
Tracey Letts - Jack McKinney
Jason Segel - Paul Westhead
Hadley Robinson - Jeanie Buss
Dr. Solomon Hughes - Kareen Abdul-Jabbar
Tamera Tomakili - Earletha "Cookie" Kelly
DeVaugh Nixon - Norm Nixon
Rob Morgan - Earvin Johnson Sr.
Sally Field - Jessie Buss
Julianne Nicholson - Cranny McKinney
Winning Time recaps
Episode 1
The premiere episode of Winning Time: The Rise of the Lakers' Dynasty, entitled "The Swan", lays the foundation of how the NBA dynasty came to be. A big part of that foundation was Dr. Jerry Buss (John C. Reilly). Throughout the episode, viewers get to see how the architect of NBA's most well-known franchise used his guy next door charm, and nearly $68 million in cash and property, to acquire a team those in his circle told him he was crazy to buy.
This purchase wasn't an easy one either, as former owner Jack Kent Cooke (Michael O'Keefe) made him jump through hoops. Cooke even prepared to change his mind and ask for an all-cash payment for the team, which Buss knowingly did not have the ability to do at the time. And it was at that moment when viewers didn't know if Cooke was going to demand an all-cash payment or if Buss was going to call Cooke's bluff, that the meaning behind the title of the premiere came to light.
Buss explains this metaphor of a swan. On the surface of the water, a swan appears graceful and composed. However, underneath the water, a swan is frantically paddling his feet to stay afloat. Although Buss was grinning on the surface, he was frantically panicking at the prospect of Cooke denying him a team he desperately wanted to own. Thankfully for Buss, Cooke wound up agreeing to the original deal.
While the swan was a metaphor for how Buss managed to appear calm and composed during negotiations, it seemed applicable to the other lead character Earvin "Magic" Johnson Jr (Quincy Isaiah) as well.
At 19, with a high sense of his self-worth, Magic for all intent and purposes was also trying to portray this cool demeanor, despite being nervous about his NBA future. Johnson had good reason to be nervous too. For starters, he was asking for a salary that up until that point no rookie of color had ever received in the NBA, and outgoing team owner Cooke refused to give him. Additionally, Magic wrestled with the insecurity of not knowing if he was good enough to be on the team after an intense one-on-one game with Norm Nixon (DeVaughn Nixon). The latter had shaken Magic's confidence a bit, and he was pretty set to return to Michigan State University.
But then comes Buss to the rescue. Through a well-designed plan, Buss was able to get Magic to see his name on an actual jersey and got him to step foot on the arena floor. Those two things seemed to be all Magic needed to join the purple and gold.
When HBO Max debuts episode 2 of Winning Time, it will be entertaining to see how the Norm Nixon and Magic Johnson dynamic unfolds. It should also be interesting to see if the show sheds more light on the thus far mysterious Kareem Abdul-Jabbar (Solomon Hughes).
Want to know fact from fiction when it comes to Winning Time? Read what we discovered about the latest episode.
Episode 2
In an episode entitled "Is That All There Is", viewers get to see that behind all of the star power and confidence of some of the series' leading characters, they had people and memories in their lives that had a way of tethering them to their humble, and sometimes traumatic, beginnings. Let's start with Jerry West.
As discussed in episode 1's fact vs fiction, in real life, West revealed to the world that he didn't have the easiest childhood growing up with an abusive stepfather. A point that was front and center in episode 2 as it opened with West witnessing the abuse of his mother. Those memories seemingly haunt West and pave the way for what the show calls "ups and downs." Again, in real life, West has struggled with depression, and this episode hints at that fact through a couple of scenes. First, the scene with him seemingly unhappy that he won a championship, and later the scene when Bill Sharman had to get West up and going after the latter spent days locked in a room.
Episode 2 also focused on Jerry Buss. Now officially installed as the Lakers owner, his next mission is to sell out The Forum and make his NBA team a championship squad. Both of which cost money, that he doesn't seem to have an abundance of, despite what he tells his staff. Thankfully he has his mother Jessie Buss, played by an almost unrecognizable Sally Fields, to help him cover up his money troubles. And as far as the real-estate mogul turned NBA owner trying to get advice on how to win a championship, he turns to Boston Celtics owner Red Auerbach. Unfortunately for Buss, the only thing he gets from Auerbach is insults and secondhand cigar smoke.
And lastly, there's Magic Johnson. Although everyone in Johnson's hometown appears to be celebrating his new role on the Lakers squad and are charmed by his smile and hubris, his mother and Earlitha Kelly, better known as Cook or Cookie, weren't impressed. His mother seemed to be tough on him and concerned by her son's growing appetite for "worldly" things. While Cookie was just annoyed with Johnson's willingness to disregard the fact she's dating Brian, and Johnson's overall belief that Cookie will ultimately always choose the NBA star. Given their public romantic history, viewers should anticipate quite the journey for these two.
Want to know fact from fiction when it comes to Winning Time? Read what we discovered about the latest episode.
Episode 3
In an episode entitled "The Best Is Yet to Come," viewers are greeted with Jerry Buss chewing out Jerry West for his resignation announcement at the end of episode 2. While West tried his best to placate the situation and acknowledge the poor timing of the announcement, it does little to help Buss who was already dealing with a cash flow problem.
Claire has yet to produce a real plan for The Forum to earn money, and Buss finds out via his mother that he owes at least $3 million to the Great Western Bank because of a loan former owner Jack Kent Cooke took out to build The Forum in the first place. And what is Buss' solution to his problems in this episode? It's to smile, hide the truth from mostly everyone and spend even more money.
Focusing on the latter, Buss decides in order to replace West he needs to offer the highest paying coaching salary in all of professional sports. And who's the fortunate recipient of this offer? Another Jerry of course, because the Lakers were apparently big fans of the name. Buss through some negotiations and with some persuading from sports representative Victor "Vic" Weiss, convinces UNLV coach Jerry Tarkanian to step into the role of the Lakers head coach. Unfortunately, by the end of the episode, fans are left to wonder if he will actually take the job given the surprise murder of Weiss.
And what of Magic Johnson in this week's episode? Episode 3 focused on his transition to Los Angeles. It's clear that he's not accustomed to the LA culture, and in a strange twist, he turned to Norman Nixon for help in getting acclimated to the city. Nixon got Johnson some new clothes, a new haircut and the vet even took the rookie to the opening of his movie premiere. Unfortunately, that's where Johnson is introduced to a shady character named Zastro. Despite being warned by his teammate Jamaal Wilkes to stay away from the "pimp-like" Zastro, Johnson goes to party with him and explore his appetite for women.
Episode 4
Titled "Who the F**k is Jack McKinney," episode 4 of Winning Time picks up with Jerry Buss again having to find another head coach. After Jerry Tarkanian pulls out following the murder of Victor Weiss, Buss is left to rely on the suggestion of outgoing Lakers coach, Jerry West. This is a point that becomes slightly ironic as West spends much of the episode second-guessing the coaching methods of Jack McKinney at the Lakers training camp.
Speaking of training camp, there are a lot of interesting dynamics at play. For Magic Johnson, he was finding out that trash-talk and no-look passes weren't scoring him any friends on the team (not a great thing for a guy who was also being "hazed" by Kareem Abdul-Jabbar with orange juice and newspaper errands).
Buss was hit with the reality that the Lakers and The Forum were a money pit that his mother wanted him to pawn off to his ex-wife. Lastly, newly cemented coach Jack McKinney had a brilliant idea for revolutionizing the game of basketball, but most of the Laker players weren't sold on it.
By the end of the episode, Magic managed to at least earn the respect of most of his teammates, including perhaps Abdul-Jabbar. He proved himself as quite the point guard in training camp, impressing even Norm Nixon. Buss, with the help of Jessie and Jeanie, got his ex-wife Joann to assume ownership of the Lakers on paper to help him avoid the pending debt collection by the Great Western Bank. McKinney on other hand, emerges as the real victor of the episode as he proved his vision for the team works. The fast-paced showtime offense was born.

Want to know fact from fiction when it comes to Winning Time? Read what we discovered about the latest episode.
Episode 5
In an episode entitled "Pieces of a Man," viewers finally get to unwrap some of the layers of Kareem Abdul-Jabbar. The episode flashes back to Abdul-Jabbar's days in high school and college, and showed that early on in his career he wanted to do more than "play basketball and make 'them' happy.
He was not only dedicated to social change, which he mentioned was the catalyst for him boycotting the 1968 Olympics, but he also turned to the Muslim faith to help him stay grounded and to guide him in his everyday life. It's clear the first decision was not popular among basketball fans, and the latter wasn't popular among his parents. Especially, after he decided to change his name from Ferdinand Lewis Alcindor Jr.
It's through this understanding of Abdul-Jabbar that viewers get to see why his dynamic with Magic Johnson is so rough in the beginning. For more than half of the episode, Johnson does his best to get the center to like him. However, Johnson becomes less concerned with impressing Abdul-Jabbar when the latter not so subtly tells the rookie that while he respects his game, he doesn't care for Johnson's performative and even "embarrassing" antics. Abdul-Jabbar's harsh words lead to Johnson firing back that the veteran was failing to lead the team, and an explosive fight ensued.
By the end of the episode, Abdul-Jabbar and Johnson are able to make peace, and the Lakers go on to start the 1979-1980 season on a winning streak. Other noteworthy things from episode 5 include Jerry Buss' anxiety taking over days before the opening of The Forum but him settling down by opening day, Spencer Haywood signing with the Lakers and revealing he conducted a self-circumcision, Pat Riley slowly figuring out the ways of a color commentator and Jack McKinney suffering a dangerous bike accident by the end of the episode.
Want to know fact from fiction when it comes to Winning Time? Read what we discovered about the latest episode.
Episode 6
Titled "Memento Mori," episode six opens to what seems like déjà vu, the Lakers in the midst of a coaching crisis. With Jack McKinney in a coma following his bike accident, Jerry Buss turns to Paul Westhead to step up into the role of head coach. Westhead isn't that confident about taking on the job, but he steps into it.
Turning back to Jerry Buss, head coaching problems aren't the only issues he's facing. Representatives from the Great Western Bank are about ready to collect on the loan Buss owes for The Forum, and he finds out that he still legally owns the Lakers. Doing a bit of a recap within a recap, a couple of episodes ago, Jessie Buss and Jeanie Buss convinced Jerry to legally sign over the team to his ex-wife in case the bank demanded repayment of the loan and he didn't have the money to pay. Well, it turns out, Jessie Buss never filed the change of ownership papers with the state, leaving Jerry in a vulnerable position with the bank.
Moving on to Magic Johnson. Cindy Day did her best to be his girlfriend. She uncomfortably asserted herself in almost every area of Johnson's life, like a cringe-worthy second shadow. She even had her dad, Dr. Day, help Magic navigate his endorsement deal contracts. (Although, we aren't sure whether to blame Dr. Day for that bad decision to sign with Converse over Nike.)
By the end of the episode, Westhead managed to continue the strong season started by McKinney (who was touch and go for a while, but woke up from a two-week coma), Jerry Buss managed to sweet-talk the bankers into extending the loan repayment and Johnson got a defacto manager in Dr. Day. Additionally, Dr. Day dumped his own daughter on behalf of Johnson.
Want to know fact from fiction when it comes to Winning Time? Read what we discovered about the latest episode.
Episode 7
In an episode titled "Invisible Man," Winning Time kicks off this week with Jerry Buss comparing his life to the board game Monopoly. Currently, he feels as if he's hit a string of bad luck with his mom being diagnosed with metastatic cancer, the Lakers experiencing a losing streak and the uncertainty of whether or not he needs to again search for another head coach. However, Buss feels that in Monopoly and in life, good fortune is not too far off when you've had the kind of bad breaks he had lately.
Speaking of the Lakers' coaching situation, Paul Westhead is drowning in his job and is uncertain if he can keep filling in as interim head coach until Jack McKinney returns. In an effort to save his job as well as McKinney's, Westhead begs Pat Riley to become his assistant coach. However, even with Pat Riley's help, it doesn't prevent the Lakers from continuing in their losing streak, and it doesn't prevent Jerry West from actively recruiting Elgin Baylor to coach the Lakers (a point that doesn't sit well with Westhead or Riley).
Then comes the make-or-break night in Boston. Buss has decided that the futures of McKinney and Westhead in Los Angeles would come down to whether the Lakers can beat the Celtics in Boston. Unfortunately, this wouldn't be an easy feat as Larry Bird and his team seemed like Goliath to the Lakers' David. At the beginning of the game it looked as Westhead would be fired, but then after an impromptu technical foul on Riley and a passionate speech from Westhead, the Lakers managed to come out on top with a game-winning shot from Michael Cooper. Buss is now sold on keeping McKinney for now.
Elsewhere in the episode, Magic Johnson is dealing with a few things. First, he's trying to deal with what seems like jealousy over the fact Larry Bird continues to get all the attention despite Johnson being "the victor" between the two thus far. Also, as his dad points out, Johnson continues to have a lot of people vying to get a piece of him, and Dr. Day's presence makes both Earvin Johnson Sr. and Kareem Abdul-Jabbar uneasy. Lastly, although he loves Cookie (Cook), it doesn't stop him from sleeping with her friend.
Want to know fact from fiction when it comes to Winning Time? Read what we discovered about the latest episode.
Episode 8
Titled "California Dreaming," episode 8 kicks off with the Lakers in the midst of a 22-5 winning record after the spark of the Boston game in the last episode, and Magic Johnson is two days away from making his debut at the 1980 NBA All-Star game. While this should be an exciting time for the Showtime Lakers, Jack McKinney is back trying to reassert himself as head coach which causes friction with Paul Westhead and Pat Riley. Westhead wavers between his loyalty to McKinney and his loyalty to Riley and more importantly Westhead's desire to continue running the show.
One spot of particular contention for this current coaching trifecta is what to do with Spencer Haywood. McKinney wants Haywood playing more, which Westhead is not a fan of given the player and coach don't see eye to eye. Riley also wants to rest Haywood so his leg can heal properly (although, we find out later that Riley has ulterior motives in Haywood getting healthy because he hopes to trade him to Detroit for Bob McAdoo).
When the All-Star weekend events get underway in Landover, Maryland, Cookie Kelly shows up to accompany Johnson in meeting his childhood hero Julius Erving aka Dr. J. Johnson immediately takes to Erving as if he's a mentor. However, Johnson would learn to see Dr. J as a fierce competitor by the end of the episode. Additionally, by the end of the episode, we see that despite declaring his love for Cookie, Johnson and Cookie seemingly break up again after she finds out that he slept with her friend Rhonda and Rhonda is now claiming to be pregnant.
Other notable events from this week's episode include Jerry Buss finding out his mom is dying and refusing further cancer treatments causing him to awkwardly entangle with his mom's home aid, Haywood turning to drugs after discovering Riley wants to trade him and Jerry West having a heart to heart with Johnson to awaken the fierce competitor in the rookie that will drive him to want to win. Oh, and Jack McKinney has very stern words for Paul Westhead in the end that pretty much leave viewers with the impression that their close bond is over.
Want to know fact from fiction when it comes to Winning Time? Read what we discovered about the latest episode.
Episode 9
In an episode titled "Acceptable Loss," there were three main storylines that viewers were following. For starters, Jerry and Jeanie Buss are trying to cope with the fact that the family matriarch, Jessie Buss, is dying. Jerry has looked to alternative medicine to get rid of his mom's cancer; but unfortunately, he finds out from his mother's physician that she's still dying. Meanwhile, Jessie reminds Jeanie of just how smart and capable she is. This is the encouragement Jeanie needs as she is now on a mission to convince her dad to let her work at The Forum as a full-time marketing associate under Claire.
Elsewhere in the episode, the Lakers are gearing up for the playoffs, and the question of Jack McKinney's return is still up for debate. Jerry Buss understandably has a lot on his mind, so he turns to Jerry West for his expertise. Unfortunately, West doesn't give Buss a firm answer, but says there is no wrong one if he decides to let Westhead finish the season or reinstate McKinney. What ultimately causes Buss to keep Westhead as head coach, is that during a visit to McKinney's home, McKinney starts having a problem with his sight and mistakes Buss for a random delivery man. That told Buss all he needed to know.
Perhaps the biggest story of the night, is Spencer Haywood. By this episode, Haywood's drug problem has reached a fever pitch and is out of control. His teammates are noticing the toll the drugs are having on his playing ability and attitude. After a confrontation with Kareem Abdul-Jabbar, Haywood promises to go cold turkey and kick the habit. Unfortunately, as the team makes it through most of the NBA playoffs, by the Finals he is back on drugs. This causes the team to hold a vote to effectively suspend him, with Kareem casting the final vote.
By the end of the episode, it turns out that the unfortunate losses pertain to Jessie Buss who loses her battle with cancer, McKinney who is now benched for the season and Haywood who succumbs to drugs. With all that going on, it's the last five minutes of the episode that prove most memorable. Haywood goes to a shady's character's house and orders a hit on the Lakers.
Want to know fact from fiction when it comes to Winning Time? Read what we discovered about the latest episode. Including what we found was the truth about Spencer Haywood.
Episode 10
In a season finale episode titled "Promised Land," the Lakers are nearing their goal of winning an NBA championship title. The only thing in their way is the 76ers and the untimely injury of Kareem Abdul-Jabbar's ankle. In the middle of Game 5, the center lands on his ankle the wrong way, and in spite of the recommendation of the team doctor that he immediately leaves the arena to go for an x-ray, Kareem musters the strength to play through the pain and helps his team win that game. Unfortunately, he was later ruled out to play for the duration of the playoff series.
Thankfully for the team, Magic Johnson was ready to step up and help fill the void left by Cap. After a secret pep talk with Kareem at the airport, Magic is convinced that he can temporarily leave his duties as a guard and fill in as a center for the Lakers for Game 6. While his teammates are initially not convinced, and Paul Westhead himself is not thrilled by the idea, Westhead agrees to let Magic step into the role. Ironically, playing Magic at the center is exactly what Jack McKinney would have done in the absence of Kareem, as shown in the coaching plan McKinney graciously offers Westhead.
Elsewhere in the finale, Claire Rothman informs Jerry Buss that he needs to make a decision on the replacement for a new treasurer. The position was previously held by his mother, and he has been slow to fill it. Jerry turns to his daughter for help in figuring this out, and while she is at first thrilled he came to her thinking he was asking her to step into her grandmother's shoes, she is immediately smacked in the face by his plan to give the job to one of her brothers instead.
By the end of the episode, the Showtime Lakers manage to win their first championship title with an incredibly fatigued Magic leading the way. He also wins the Finals MVP award, although it seems that was by default because he was present and Kareem wasn't. Jerry winds up deciding that Claire was actually the right person to fill his mother's shoes. Also, Spencer Haywood seemingly calls off the hit on the Lakers and Paul Westhead, and Kareem talks Haywood into getting help for his drug problem.
Want to know fact from fiction when it comes to Winning Time? Read what we discovered about the latest episode.
How to watch Winning Time
Winning Time will air on HBO, which is a cable channel that is available on many traditional cable/satellite pay-TV subscription services, as well as an add-on for live TV streaming services like Hulu with Live TV and YouTube TV. Check your provider to see if HBO is available on your deal.
The other option you will have to watch Winning Time is to stream it on the HBO Max platform. Subscribers to HBO get free access to HBO Max, but you can also sign up for it as a stand-alone streaming service for either $9.99 per month (with ads) or $14.99 per month (ad free). Winning Time would be available on HBO Max as soon as it airs on traditional HBO.
UK viewers can now begin watching Winning Time using Sky TV (opens in new tab).
Get the latest updates, reviews and unmissable series to watch and more!
Michael Balderston is a DC-based entertainment and assistant managing editor for What to Watch, who has previously written about the TV and movies with TV Technology, Awards Circuit and regional publications. Spending most of his time watching new movies at the theater or classics on TCM, some of Michael's favorite movies include Casablanca, Moulin Rouge!, Silence of the Lambs, Children of Men, One Flew Over the Cuckoos Nest and Star Wars. On the TV side he enjoys Peaky Blinders, The Marvelous Mrs. Maisel, Saturday Night Live, Only Murders in the Building and is always up for a Seinfeld rerun. Follow on Letterboxd (opens in new tab).
Thank you for signing up to Whattowatch. You will receive a verification email shortly.
There was a problem. Please refresh the page and try again.