How to read the Virgin River books in order
Inspired by the hit Netflix romance show? Here's how you can read the Virgin River book series that the show adapts.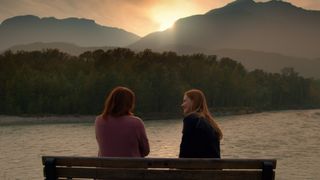 (Image credit: Netflix)
If you've been enthralled by the hit Netflix romance show Virgin River then you're not alone, as it's so successful that before Virgin River season 5 was even released, the show has already been renewed for a sixth season.
But not everyone knows that the entire show is based on a long-running series of novels by Robyn Carr, and if you can't wait for new episodes to air, then reading the Virgin River books will help you keep your love for the show burning.
With a whopping 23 stories currently out for the series, you can easily read ahead of the show if you like (although the show's accuracy to the books fluctuates quite a bit). If you simply want to read up to where the show is, you've still got quite a bit of reading to do to even get to where the series is.
So, for fans of Virgin River or romance novels in general, here's the order the Virgin River books were released in, with links to Amazon so you can buy them.
How to read the Virgin River books in order of release
Do you need to read the Virgin River books in order?
You don't actually need to read the Virgin River books in any particular order, because each one focuses on a different character. This is unlike the show, which introduces many characters at once and follows them over multiple seasons.
Even though some main characters come back in background roles, and there will be familiar locations between the stories, you'll easily be able to intuit any important information without having to read the previous books.
Saying that, there's not much need to read in a peculiar order unless you really want to!
Just note that, while most of the Virgin River stories are novels, some aren't. Sheltering Hearts is a novella while Under the Christmas Tree and Midnight Confessions are shorter stories that were originally published in anthologies. Holidays in Virgin River is an anthology itself, with some non-fiction content like recipes.
Virgin River collections
If you don't want to order upwards of 23 books online or on audiobook, there are thankfully collection sets that get you all the books in one go.
The exact collections offered vary by region, but you can find Virgin River collections on Amazon here. There are many four-book bundles available but some collect 10 or even 20 of them in one big super-set.
Get the What to Watch Newsletter
The latest updates, reviews and unmissable series to watch and more!
Streaming and Ecommerce Writer
Tom is the streaming and ecommerce writer at What to Watch, covering streaming services in the US and UK. His goal is to help you navigate the busy and confusing online video market, to help you find the TV, movies and sports that you're looking for without having to spend too much money.