Daniel Mays 'did Doctor Who for son'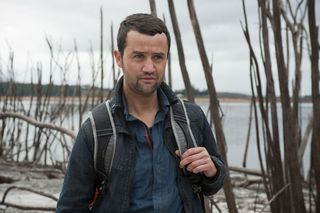 (Image credit: Kudos Film and Television)
Actor Daniel Mays has admitted that he did the most recent episode of Doctor Who in order to impress his five-year-old son. The Ashes to Ashes star appeared in Saturday's episode Night Terrors, as the father of the terrified little boy who was at the centre of the episode. "I have a five-year-old son, Mylo, who's a big Doctor Who fan," Daniel said. "I think the quality of the show has got better and the calibre of guest actors they get in is of a high standard, but the key to the story for me was the relationship between this father and son. It's really quite touching and moving." And while the actor confessed he did not like watching himself onscreen, he said he was prepared to make an exception for his Doctor Who appearance. "I must admit I'm not a great fan of watching myself back, but I'll watch it with Mylo," he revealed. "I think he'll really enjoy the episode and lots of his friends at school are huge Doctor Who fans. Matt signed some photos for them, which made their day. I think I was the best dad in the school that day!"
Get the latest updates, reviews and unmissable series to watch and more!
Thank you for signing up to Whattowatch. You will receive a verification email shortly.
There was a problem. Please refresh the page and try again.