Downton's Kevin Doyle and Raquel Cassidy: 'The ending isn't neatly wrapped up!' (VIDEO)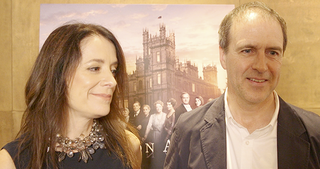 Downton Abbey stars Raquel Cassidy and Kevin Doyle talk to What's on TV about the end of the period drama and why it's the right time to finish…
Surveying the imminent end to Downton Abbey, Kevin said: "Not everything's spelt out. Some of the characters' lives are left to the imagination of the viewers, so things aren't all wrapped up neatly at the end."
Raquel added: "In a way it's given over to [the audience]. We've finished, but those stories can live on."
Kevin continued: "People felt it was the right time to finish. I think quite a lot of people thought that last year might have been the end, but there wasn't really enough time to wrap up… so we came back this year. Everything is finished off now and I hope people are pleased with the results."
Talking about the international success of Downton, Kevin, who's been with the show since it began in 2010 as servant Joseph Molesley, said: I don't think it's changed our lives here [UK]. People are used to seeing us, and it's kind of the same. But if you go abroad it's a different story, especially in the States."
Meanwhile, Raquel revealed she's been offered one of lady's maid Phyllis Baxter's dresses as a keepsake: "I was offered my black dress. I might still say yes. I've had a few black dresses over the time and they made a copy of one because I had to run around in a few scenes and they thought I might rip it with my running skills!"
Kevin responded: "They didn't offer me my footman's costume. That's a shame. I could have done a little bit of extra curricular work as a footman!"
For the full interview watch the video, above. "]
Meanwhile, watch Downton Abbey this Sunday to see whether Sergeant Willis's arrival at the great house will bring convicted thief Baxter and love-interest Molesley closer together... or tear them apart?
Get the latest updates, reviews and unmissable series to watch and more!
Thank you for signing up to Whattowatch. You will receive a verification email shortly.
There was a problem. Please refresh the page and try again.