EastEnders' Maddy Hill: 'I still can't believe I'm being paid to act!'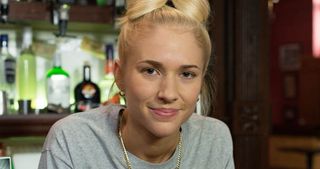 (Image credit: BBC/Jack Barnes)
British Soap Awards Best Newcomer nominee Maddy Hill tells TV Times magazine (opens in new tab) why Nancy Carter is a different kind of EastEnders (opens in new tab) character…
How does it feel to be nominated for Best Newcomer?
"Firstly, I didn't know I was eligible for a nomination. I thought all the nominations were out, so it was a big surprise. It's really cool. But you see, I still can't believe I am actually being paid to act. All the while I was learning to hear the word 'No' after auditions, I had my own theatre group and was acting for free!"
What do you think is so great about Nancy Carter?
"I am a raging feminist and I think that the sexual objectification of women in the media is a big problem. Nancy is a great role model for young women and I am grateful to have the opportunity to showcase my acting without it being anything to do with the way I look."
What about Nancy's wardrobe?
"Nancy wasn't going to be a tomboy. She was going to get married in a Juicy Couture tracksuit with a thong hanging out. I had a pair of basketball shorts at home that I wore to bed, so I suggested them for Nancy, which shaped the rest of her wardrobe and made her quite extreme. At EastEnders, if you bring ideas to the table, they're all ears, so it was a joint effort building the character."
What do you make of the clothes you wear for the character?
"Being hidden under baggy clothes is very freeing. If I get pasta belly at lunchtime, I don't have to worry. A lot of my clothes at home are quite tight and I am beginning to resent them! I also love the fact that I am only in make-up for 15 minutes whereas some actresses are in there for an hour, the poor things."
We have to say that we think there's something something incredibly fresh and natural about your performance…
"It's lovely of you to say that. I try not to over-think things. If I toy with something too much, then it looks a bit forced on screen. I try and react instinctively in the moment. Once I put Nancy's clothes on, I feel as if I am in her skin."
Nancy has epilepsy. How did you research that?
"I watched loads of epileptic fits online. I practised them at home and there was this ongoing thing where my brother would come home and find me fitting on the floor. It is odd lying next to wardrobe mirrors to check how your fit is going."
How do you fancy your chances at winning Best Newcomer?
"I think Amy Kelly who plays Maddie Heath in Coronation Street is great. She would be a worthy winner. Whatever happens, the Soap Awards will be fun and I'll be sitting there with bated breath. I'll also be wearing a dress! Playing Nancy makes it easy for me. All I have to do is put on a dress and people think it's nice that I have made an effort."
Get the latest updates, reviews and unmissable series to watch and more!
Thank you for signing up to Whattowatch. You will receive a verification email shortly.
There was a problem. Please refresh the page and try again.