This Is Us series finale — why Rebecca's ending was so beautiful
By Sophia Soto published
The series finale of This Is Us wraps up Rebecca's journey in a powerful way.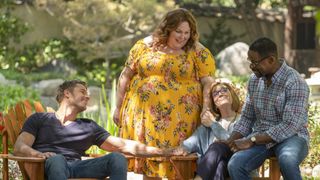 (Image credit: Ron Batzdorff/NBC)
In last week's penultimate episode of This Is Us season 6, audiences saw Rebecca's emotional journey to the afterlife guided by William on a train, but that's not where her story ends.
Despite the series finale including her funeral, that wasn't the focus in any regard. Instead we were treated to a quiet Saturday with the Pearsons and a continuation of Rebecca reuniting with Jack.
Jack Pearson died back in season 2, but the beloved character lived on through flashbacks. Now, fans watched as he welcomed Rebecca into the afterlife and helped her move on as they lay down next to each other in the caboose.
Rebecca expresses how scared she is and Jack reassures her that she doesn't have to be. He continues by telling her that they did good, that she did so good before promising that she'll still get to be there and do everything she wants to with their family.
That sentiment naturally made this scene one of the show's best moments that will no doubt last with viewers.
"Just knowing Jack consoled Rebecca on the other side that she will still be able to watch over their kids just like he has all these years was the most poignant and beautiful thing," one fan shared.
The final moments are what truly made the episode a fitting series finale for This Is Us.
"Jack telling Rebecca about eternity and how she will always be with her children is when I lost it. She'll always be there because they will keep her memory alive just like they kept Jack's alive," tweeted another viewer.
Of course, This Is Us never fails when it comes to the small details so we all lost it when it was revealed that when Rebecca squeezed Jack's hand, Randall felt it.
"Okay so Jack tells Rebecca that you don't really leave your loved ones in the after life and then squeezes Jack's hand and actually squeezes Randall's hand in real life as a show of Jack's words. I can't take it," commented someone else.
It has truly been an incredible ride and everyone involved should be so proud. US viewers can catch up (or rewatch) the This Is Us series finale on Hulu and Peacock.
In the UK, This Is Us fans can now watch the final episode on Prime Video and Disney+.
Sophia Soto has a passion for all things entertainment. She currently writes for What To Watch, The Nerds of Color, and Remezcla with bylines in Young Hollywood. Some of her favorite shows include Grey's Anatomy, The Goldbergs, Riverdale, and Roswell, New Mexico. She is also a complete Marvel nerd!
Get the latest updates, reviews and unmissable series to watch and more!
Thank you for signing up to Whattowatch. You will receive a verification email shortly.
There was a problem. Please refresh the page and try again.