Holby's Guy: 'It explains why Hanssen's so cold'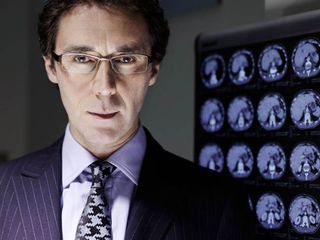 (Image credit: BBC)
In a special episode of Holby City filmed in Sweden, painful family secrets are revealed this week when boss Henrik Hanssen returns to his native Stockholm. Guy Henry reveals more... What is Hanssen doing in Sweden? "Well, he's been lured there by Nils Johannssen, the chairman of Scandicor, a pharmaceutical company owned by Hanssen's father, Anders Lovborg. Scandicor wants to give £40 million to Holby, but Hanssen doesn't want it. He's basically gone to Sweden to tell his father to stick his money and stay out of his life!" Hanssen hasn't seen his father for 36 years. Why is that? "Anders disappeared in disgrace when it was discovered he'd built his company on Nazi medical research. Hanssen felt what his father did was unforgivable so, aged 16, he cut himself off from him." Also in this episode we discover that Hanssen actually has a son with a woman, Maja, who he abandoned while pregnant 25 years ago... "I know! We don't know anything about Hanssen until now... then it all comes out at once!" Meanwhile, Jac's been sent on a mission by Serena to track down Hanssen and find out what he's up to. Once in Sweden, Jac makes a discovery... "Jac discovers Anders was using the Nazi research to do good things. Jac and Hanssen have a heart-to-heart with Hanssen admitting he's always believed his father's actions led his Jewish mother, a Holocaust survivor, to kill herself." Later, Hanssen is told the truth about events surrounding his mother's death. Can he right the wrongs of his past? "Hanssen's lived the last 36 years of his life without knowing the truth and now deeply regrets ever walking out on his father, then his partner and his child. It's an emotional episode for Hanssen and explains why he's always been so cold and lonely." So, does Hanssen return to Holby? "He does for a little while, yes. I was just hoping that people wouldn't write in and say: 'Thank god that tall pompous one has gone!'" Holby City continues on Tuesdays at 8pm on BBC1.
Get the latest updates, reviews and unmissable series to watch and more!
Thank you for signing up to Whattowatch. You will receive a verification email shortly.
There was a problem. Please refresh the page and try again.