New Holby star Jemma Redgrave: 'Bernie is going to be a very surprising character'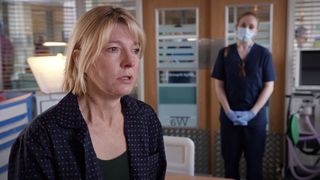 (Image credit: BBC)
Jemma Redgrave is currently doing battle with the staff of Holby City (BBC1, Tuesday), playing a military medic used to getting her own way. TV Times caught up with Jemma, 51, to find out more about gung-ho Major Bernie Wolfe….
You spent the whole of your first Holby episode lying down, which sounds like a nice way to start a new job…
"My head was in a neck brace so I couldn't move any part of me at all except for my eyes. I suddenly realised how much I usually move and gesticulate and how challenging it is to keep still. From now on I am going to rehearse plays in a neck brace because it takes you right out of your comfort zone. You can only use your eyes and voice so it makes you really focus on the scene and what you are trying to do."
You've been acting since you were a teenager and are part of the fourth generationof an acting dynasty... do you still get nervous?
"I always get nervous and [the nerves] get slightly worse as I get older. But this is a very warm place and I was made to feel at home very quickly. The pace is like an express train and it's hard to keep up, but for people who love the show Bernie is going to be a very surprising character."
There's quite a lot of tension between Bernie and husband Marcus…
"She has been away for a long time throughout her marriage and their two children growing up. Now she comes back with possible life-changing injuries and her first thought is not about the family it's, 'How is this going to affect my career?' She loves army life and that is wearing very thin for her family."
How will she cope with someone else giving the orders?
"She causes a lot of trouble in the beginning! She has had almost complete autonomy over her work life for a long time and she comes to a hospital where there is a political hierarchy and where she has to play by certain rules. Suddenly she has to answer to people and it causes her real difficulties."
Perhaps your most famous TV role was Dr Eleanor Bramwell in the mid-nineties ITV series Bramwell. Is it nice to play a doctor again?
"Yes, at the end of Bramwell she married a soldier, it was around the time of the Boer War and I like to think of Bernie as being Bramwell's great granddaughter. Both are headstrong, brave and interesting."
We know there are lots of actors in the family, but are there any medical links that helped you prepare for Bernie?
"I have taken inspiration from a surgeon friend of mine. He is a huge inspiration to me – prostate surgeon Roger Kirby [Jemma's father Corin was diagnosed with prostate cancer in 2000]. He once said to my father and stepmum, 'When you're facing a tough medical situation you have to keep a steady nerve.' That is very Bernie and I think about him from time to time when I'm playing her. It's also good advice for life!"
Get the latest updates, reviews and unmissable series to watch and more!
Thank you for signing up to Whattowatch. You will receive a verification email shortly.
There was a problem. Please refresh the page and try again.